Pekanbaru
---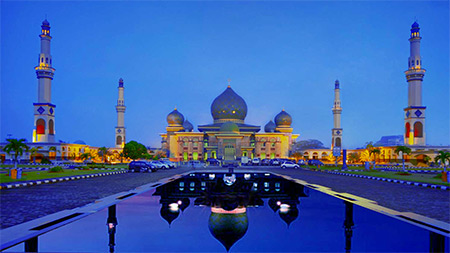 Pekanbaru is one of Indonesia city, a capital for Riau province on the island of Sumatra. As it mentioned before that Pekanbaru is the busy strait for trading port and become the gateway from Indonesia to Singapore. The name of Pekanbaru is referred from Indonesia language of new market or pekan baru.
Pekanbaru has slogan for the city of Bertuah or be fortunate. In other side, Bertuah is a abbreviation of Bersih, Tertib, Usaha Bersama, Aman dan Harmonis or it means as Clean, Orderly, Mutual Assistance, Safe and Harmony.
At early begin, Pekanbaru was known as Senapelan, which is lead by a man named Batin. At first, the region was just a field which gradually turned into a regional settlement.
The native population in Pekanbaru are Riau Malay people that their dominance in most coastal areas and in other regions. Pekanbaru is also inhabited by foreigners, such as the Minangkabau, Melayu Riau (from Riau), Javanese, Batak, Tionghoa, and other tribes.
Riau in general is not like any other province like Bali, which has some attractive destinations, but surely they have some of attraction places that worth to be visited. Especially in Pekanbaru there are some places for recreation or finding the historical site about Pekanbaru. For instance; Pekanbaru Great Mosque, the grave of Marhum Bukit and the grave of Marhum Pekan, Idrus Tintin art gallery, Balai Adat Melayu, Sang Nila Utama Museum, artificial lake tourism, Alam Mayang and tourism market.
While on Riau tourism, in general, they have; Solop beach, Bukit Berbunga or flower hill, Pulau Burung or Bird Island, Taga Raja Guntung lake, Pekan Arba, Kerumutan protected forest, Kuala kempar agroniaga attraction and meranti bay. Napangga Lake, Batu Belah Batu Bertangkup, Tilan sland, Bukit tiga puluh national park, and there are some more natural resources that become a natural tourism in Riau.

Latest News
Luxurious and quiet. Perhaps this is one of the appropriate nicknames for the calm and spacious beauty of Zamrud Lake. The lake which located in conservation area is located in Siak Sri Indrapura Regency, Riau province. Besides having a large surface, this lake also has islands. There are large and small islands. Uniquely, these islands can move. This island is marshland floating above the lake. Big and deep, of course. You can not imagine how deep this lake is. Not only that. On this big island also live thousands of…
---
This wildlife reserve forest is spread in an area of ??1,332,169 ha and it inhabited by many species of flora and fauna that typical of lowland forest. Its area of mangrove trees decorated corridor through the Kampar River, that made ??it so special among other forests which spread across the island of Sumatra. Kerumutan reserve forest is a conservation area that located in Kerumutan sub-district and spreading across two districts namely Pelalawan and Indragiri Hulu, Riau Province. The forest boundary is the River of Indragiri, Kampar River, the East Coast…
---
Rimbo Terantang tourism forest is located in Padang Lawas village. This tourism is having marvelous nature tourism between the genuine forest and it has exotic flora. This tourism object is officially becomes the research area for nature phenomenon for both flora and fauna. This type of tourism for this forest is adventurous tourism; the visitors who come to this place are those who seek for adventure need while enjoy the fresh atmosphere, chilling situation and great sightseeing. www.indonesia-tourism.com
---
Merbau Island Merbau is an Island and a district in the Meranti Islands regency, Riau, Indonesia. The city district is Renak Rungun. Meranti Islands Regency is a result of the expansion area Merbau District, formed on January 26, 2011. Where the Pulau Merbau District is covering the entire island of Pulau Merbau, while Merbau subdictrict covers the entire island of Padang. The island has bordered with Malaka strait in north, west Tebing Tinggi sub district in south, Merbau sub district in west, west Rangsang in east.     www.indonesia-tourism.com
---