Idrus Tintin Art Building
---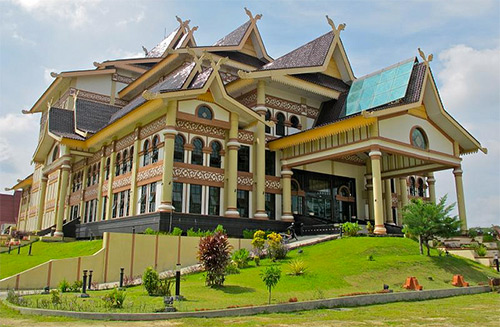 Anjungan Seni Idrus Tintin is an art building that stands in Arena Purna MTQ, that today is becomes Bandar Serai Complex in Jl. Sudirman, and it is one of the wonder building in Pekanbaru.
This art building has significant Malay Riau traditional building with magnificent design of architecture, just like a palace.
By having the same height equal to the three-story building, this Idrus Tintin Art Building stands towering to have an impressive aesthetic value. Start from the outside of the building to the indoor architecture, this Art building will pamper your and bring the amazing feeling to it.
Idrus Tinting Art Building is the place for Indonesian Film Festival in 2007, the drama rehearsal and also becomes the most pretentious theater building in Indonesia. In addition, around this art building, there are custom homes from various areas in Riau with pretty design and Dekranasda. Pekanbaru residents usually spend more time in the afternoon at this building, either for relaxing or taking pictures with Idrus Tintin Art Building background.
The name of Idrus Tintin art building is taken from one of Riau artists, Idrus Tintin, that born in November 10, 1932 in Rengat regency, Indragiri Hulu. There are numbers of his masterpiece that become the Indonesia's art and literatures.
After being the art and theatrical importance, the local people around the building is also use for doing sport like jogging, art performances, Riau Malay culture performance and other youngsters' activities like art exhibition with national and international scale.

Latest News
Luxurious and quiet. Perhaps this is one of the appropriate nicknames for the calm and spacious beauty of Zamrud Lake. The lake which located in conservation area is located in Siak Sri Indrapura Regency, Riau province. Besides having a large surface, this lake also has islands. There are large and small islands. Uniquely, these islands can move. This island is marshland floating above the lake. Big and deep, of course. You can not imagine how deep this lake is. Not only that. On this big island also live thousands of…
---
This wildlife reserve forest is spread in an area of ??1,332,169 ha and it inhabited by many species of flora and fauna that typical of lowland forest. Its area of mangrove trees decorated corridor through the Kampar River, that made ??it so special among other forests which spread across the island of Sumatra. Kerumutan reserve forest is a conservation area that located in Kerumutan sub-district and spreading across two districts namely Pelalawan and Indragiri Hulu, Riau Province. The forest boundary is the River of Indragiri, Kampar River, the East Coast…
---
Rimbo Terantang tourism forest is located in Padang Lawas village. This tourism is having marvelous nature tourism between the genuine forest and it has exotic flora. This tourism object is officially becomes the research area for nature phenomenon for both flora and fauna. This type of tourism for this forest is adventurous tourism; the visitors who come to this place are those who seek for adventure need while enjoy the fresh atmosphere, chilling situation and great sightseeing. www.indonesia-tourism.com
---
Merbau Island Merbau is an Island and a district in the Meranti Islands regency, Riau, Indonesia. The city district is Renak Rungun. Meranti Islands Regency is a result of the expansion area Merbau District, formed on January 26, 2011. Where the Pulau Merbau District is covering the entire island of Pulau Merbau, while Merbau subdictrict covers the entire island of Padang. The island has bordered with Malaka strait in north, west Tebing Tinggi sub district in south, Merbau sub district in west, west Rangsang in east.     www.indonesia-tourism.com
---