Tesso Nilo National Park
---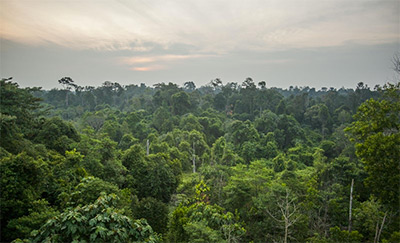 Tesso Nilo National Park is reserve and special sanctuary for elephants, which was officially inaugurated on July 19th 2004, with 38.576 Hectares width. Tesso Nilo is the biggest low land forest in Sumatera, and habitat for about 3% species of mammals in the world.
A single hectare of this national park consists of 360 flora, divided into 165 genus and 57 family, 107 species of birds, 23 species of mammals, 3 species of primates, 50 species of birds, 15 species of reptiles and 18 species of amphibians. This national park is one of the low land forest that serves as conversation and habitat for about 60 – 80 elephants.
The visitors who come to this park can explore the forest while sitting on elephant, or joining the flying squad patrol. the visitors who want to experience adrenaline raising may directly herd wild elephants back to their habitat. Moreover, there are many sumateran tiger`s tracks or other animals` tracks, such as tapirs, bears, bobcats, etc.
A trip to Tesso Nilo National Park takes only four hours from the city of Pekanbaru, Riau. The visitors can rent a car for Rp500.000 for one-way (including the cost of the driver) from Pekanbaru to the national park to the Flying Squad Camp.
"Flying Squad" is referring to the flying squad of elephant program; this is a program pioneered by WWF-Indonesia, which is a conservation organization, to train wild elephants to be "benign" for the mitigation of human-elephant conflict in the Tesso Nilo region. The elephants are trained to patrol the woods and drive the wild elephants to minimize conflicts between people and wild elephants that coming to the villages.
The name of Tesso Nilo is taken from the name of two major rivers in Riau, Tesso River and Nila River. Approximately 20 minutes from the camp, there is a bridge across the River Nila.
At the Tesso Nilo National Park, WWF has facilitated the establishment of the forum who are directly involved in the management of the national park. The forum called "Tessonilo National Park Foundation" or "Yayasan Taman Nasional Tesso Nilo", which is a representative of the 22 villages surrounding to protected areas Tessonilo. The aim of this achievement is to develop new ways of sustainable forest economically use, to anticipate and to reduce conflicts, and to increase awareness among local communities about the importance of conservation.

Latest News
Luxurious and quiet. Perhaps this is one of the appropriate nicknames for the calm and spacious beauty of Zamrud Lake. The lake which located in conservation area is located in Siak Sri Indrapura Regency, Riau province. Besides having a large surface, this lake also has islands. There are large and small islands. Uniquely, these islands can move. This island is marshland floating above the lake. Big and deep, of course. You can not imagine how deep this lake is. Not only that. On this big island also live thousands of…
---
This wildlife reserve forest is spread in an area of ??1,332,169 ha and it inhabited by many species of flora and fauna that typical of lowland forest. Its area of mangrove trees decorated corridor through the Kampar River, that made ??it so special among other forests which spread across the island of Sumatra. Kerumutan reserve forest is a conservation area that located in Kerumutan sub-district and spreading across two districts namely Pelalawan and Indragiri Hulu, Riau Province. The forest boundary is the River of Indragiri, Kampar River, the East Coast…
---
Rimbo Terantang tourism forest is located in Padang Lawas village. This tourism is having marvelous nature tourism between the genuine forest and it has exotic flora. This tourism object is officially becomes the research area for nature phenomenon for both flora and fauna. This type of tourism for this forest is adventurous tourism; the visitors who come to this place are those who seek for adventure need while enjoy the fresh atmosphere, chilling situation and great sightseeing. www.indonesia-tourism.com
---
Merbau Island Merbau is an Island and a district in the Meranti Islands regency, Riau, Indonesia. The city district is Renak Rungun. Meranti Islands Regency is a result of the expansion area Merbau District, formed on January 26, 2011. Where the Pulau Merbau District is covering the entire island of Pulau Merbau, while Merbau subdictrict covers the entire island of Padang. The island has bordered with Malaka strait in north, west Tebing Tinggi sub district in south, Merbau sub district in west, west Rangsang in east.     www.indonesia-tourism.com
---