Siak Palace
---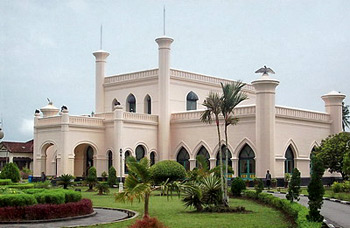 Siak Palace is settled in Siak regency, Riau, as the heritage from the biggest Islam Malay kingdom in Riau at ancient time. This palace was build since 1889, during the reign of Sultan Assyaidis Syarif Hasyim Abdul Jalil Syaifuddin.
Siak kingdom was an empire that stood for more than two centuries, in 1723 until 1946. The first Siak Kingdom was a fraction of the Malay Kingdom, between Sultan Abdul Jalil Rahmat Syah (Little King) and Sultan Suleiman whose assisted by the Bugis. Sultan Abdul Jalil finally eliminated and  moved to Johor, Bintan, Bengkalis, and finally the remote area around Siak River.
At Siak Palace, you can see a wide collection of royal heritage in the form of a gilded throne chair, royal crown duplicate, royal safe, spears, royal umbrella, the bronze statue of Queen Wihemina, as well as comet music instrument. Currently, several collections from this Palace are  stored in the National Museum in Jakarta.
Istana Siak has architecture which blend betweet Malay, Arab and European, which is also known as Eastern Sun Palace and the original name as Assiyaratul Hasyimiah. The palace walls are decorated by ceramics that were imported from France. The building has two-stories, where on the bottom floor is divided into 6 courtrooms, the honored guest room, a living room for men, living room for women, and the courtroom which is also a royal party room. While the upstair is includes 9 rooms for Sultan and space for the royal guests.
The palace is now functioned as offices, houses, inns, and shops by the residents. Numbers of Siak palace and hundreds of heirlooms inside are managed by Yayasan Amanah Sultan Syarif Kasim where the managers are still descendants of Sultan Siak.
Siak Palace opening hours are Monday-Thursday and Saturday, at 9 a.m. to 16:00 pm. In Friday this place is closes at 9:00 to 11:00 and will reopen at 13:45 to 16:00 pm. The amission tickets for adults is Rp3.000,00 and for children is Rp2.000,00.

Latest News
Luxurious and quiet. Perhaps this is one of the appropriate nicknames for the calm and spacious beauty of Zamrud Lake. The lake which located in conservation area is located in Siak Sri Indrapura Regency, Riau province. Besides having a large surface, this lake also has islands. There are large and small islands. Uniquely, these islands can move. This island is marshland floating above the lake. Big and deep, of course. You can not imagine how deep this lake is. Not only that. On this big island also live thousands of…
---
This wildlife reserve forest is spread in an area of ??1,332,169 ha and it inhabited by many species of flora and fauna that typical of lowland forest. Its area of mangrove trees decorated corridor through the Kampar River, that made ??it so special among other forests which spread across the island of Sumatra. Kerumutan reserve forest is a conservation area that located in Kerumutan sub-district and spreading across two districts namely Pelalawan and Indragiri Hulu, Riau Province. The forest boundary is the River of Indragiri, Kampar River, the East Coast…
---
Rimbo Terantang tourism forest is located in Padang Lawas village. This tourism is having marvelous nature tourism between the genuine forest and it has exotic flora. This tourism object is officially becomes the research area for nature phenomenon for both flora and fauna. This type of tourism for this forest is adventurous tourism; the visitors who come to this place are those who seek for adventure need while enjoy the fresh atmosphere, chilling situation and great sightseeing. www.indonesia-tourism.com
---
Merbau Island Merbau is an Island and a district in the Meranti Islands regency, Riau, Indonesia. The city district is Renak Rungun. Meranti Islands Regency is a result of the expansion area Merbau District, formed on January 26, 2011. Where the Pulau Merbau District is covering the entire island of Pulau Merbau, while Merbau subdictrict covers the entire island of Padang. The island has bordered with Malaka strait in north, west Tebing Tinggi sub district in south, Merbau sub district in west, west Rangsang in east.     www.indonesia-tourism.com
---