Alam Mayang Recreational Park
---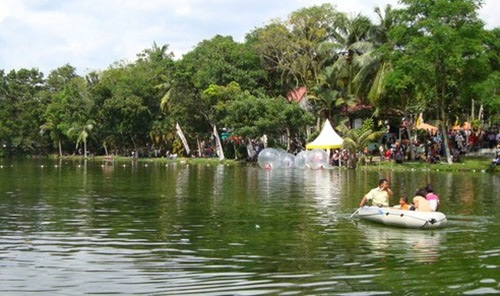 Those who want to spend the time by having green nuance in the middle of the town, thos Alam Mayang Recreational Park is the best spot to hang with. The large recreational park and green open space concept is surely can refresh your mind during the busy daily routines.
With an area of approximately 24 hectars Alam Mayang Recreational Park Pekanbaru provides many facilities like fishing pond, a lake with water bicycles, Banana boat, safary train, flying fox, bike tracks, bath balls, bombom car, monkey performance and much more. Moreover, since the last 4 years there will be New Year celebration that been held in this park.
The green shady nuance with trees in here and there, make the local people feels comfortable to enjoy the time with friends and relatives at this park that located in Imam Munandar street (Harapan Jaya), Pekanbaru.
This recreational park is managed by uniting various tourist activities with stunning natural scenery, row mountain chain that looks high and elongated in the distance.
In addition, the interesting sight of this park is a bridge that crosses the river Siak, which is Leghton Bridge. So it makes the park always crowded by tourists, both, local and from outside the region who spend their holidays here. This park is also provide the water games such as Bike water, magic carpet, banana boat, Bogel, camper boat, train dragons, bath balls and other games for children and family vacation.
Furthermore, there are also various tourist activities in open spaces such as shooting targets, flying fox, fox safari, fishing and other. Meanwhile, if the visitors are getting bored doing water tourism activities or the outdoors, they can enjoy the entertainment facility that been provided, like clown attractions, monkey masks, 3D Studio and dance performances.

Latest News
Luxurious and quiet. Perhaps this is one of the appropriate nicknames for the calm and spacious beauty of Zamrud Lake. The lake which located in conservation area is located in Siak Sri Indrapura Regency, Riau province. Besides having a large surface, this lake also has islands. There are large and small islands. Uniquely, these islands can move. This island is marshland floating above the lake. Big and deep, of course. You can not imagine how deep this lake is. Not only that. On this big island also live thousands of…
---
This wildlife reserve forest is spread in an area of ??1,332,169 ha and it inhabited by many species of flora and fauna that typical of lowland forest. Its area of mangrove trees decorated corridor through the Kampar River, that made ??it so special among other forests which spread across the island of Sumatra. Kerumutan reserve forest is a conservation area that located in Kerumutan sub-district and spreading across two districts namely Pelalawan and Indragiri Hulu, Riau Province. The forest boundary is the River of Indragiri, Kampar River, the East Coast…
---
Rimbo Terantang tourism forest is located in Padang Lawas village. This tourism is having marvelous nature tourism between the genuine forest and it has exotic flora. This tourism object is officially becomes the research area for nature phenomenon for both flora and fauna. This type of tourism for this forest is adventurous tourism; the visitors who come to this place are those who seek for adventure need while enjoy the fresh atmosphere, chilling situation and great sightseeing. www.indonesia-tourism.com
---
Merbau Island Merbau is an Island and a district in the Meranti Islands regency, Riau, Indonesia. The city district is Renak Rungun. Meranti Islands Regency is a result of the expansion area Merbau District, formed on January 26, 2011. Where the Pulau Merbau District is covering the entire island of Pulau Merbau, while Merbau subdictrict covers the entire island of Padang. The island has bordered with Malaka strait in north, west Tebing Tinggi sub district in south, Merbau sub district in west, west Rangsang in east.     www.indonesia-tourism.com
---