Soeman HS Library
---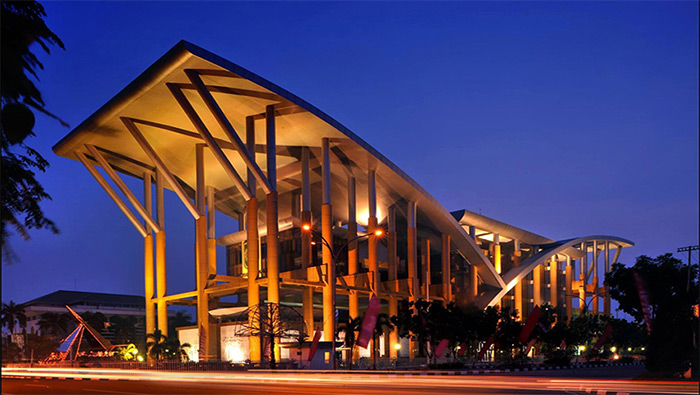 Soeman HS Library is a library and national archive in Pekanbaru, Riau Province. The library was built by the government of Riau with six floors. The library has a number of facilities including an auditorium, cubicles of Malay culture, an atrium, meeting room, Internet room, small mosque, café, cafeteria and Energy Corner (Chevron Library).
The Library Soeman HS also keeps a number of works of literature related to Malay culture, that stored in a special room known as the Malay Chambers.
In 2008, Vice President Muhammad Jusuf Kalla came to review and inaugurated the Soeman HS Library .
The building of Soeman Library has a magnificent architecture with a model and a unique design. The model of the library at a glance is shaped like an open book, but the actual design was inspired by Rehal or pedestal where reading the Quran. According to the the architect, Dr. Sudarto, the shape of the roof is like Rehal that remind people to always learn by reading as the command of God.
In addition to being a reading room, the library is a public space for the community. There are events that usualy held at this place and this building is also becomes one of tourism potential in Pekanbaru.
The elements of Malay cultural cannot be separated from this building design. The high pillars or columns that supported the roof is shaped architecture inspired by the concept of a traditional Malay house.
This library has number of facilities, among others:
Auditorium
Malay culture chamber
Atrium
Meeting room
Internet space
Praying room
Café
Canteen
Energy Corner (Chevron Library)
The name of the library is inspired by the name of Riau poet, Tapanuli descendant, namely Soeman Hs. Today, Soeman library is now becomes the new iconic landmarks and tourism in Pekanbaru. During the days, this place can be visited by up to 1,000 people both from local and from outside the region.

Latest News
Luxurious and quiet. Perhaps this is one of the appropriate nicknames for the calm and spacious beauty of Zamrud Lake. The lake which located in conservation area is located in Siak Sri Indrapura Regency, Riau province. Besides having a large surface, this lake also has islands. There are large and small islands. Uniquely, these islands can move. This island is marshland floating above the lake. Big and deep, of course. You can not imagine how deep this lake is. Not only that. On this big island also live thousands of…
---
This wildlife reserve forest is spread in an area of ??1,332,169 ha and it inhabited by many species of flora and fauna that typical of lowland forest. Its area of mangrove trees decorated corridor through the Kampar River, that made ??it so special among other forests which spread across the island of Sumatra. Kerumutan reserve forest is a conservation area that located in Kerumutan sub-district and spreading across two districts namely Pelalawan and Indragiri Hulu, Riau Province. The forest boundary is the River of Indragiri, Kampar River, the East Coast…
---
Rimbo Terantang tourism forest is located in Padang Lawas village. This tourism is having marvelous nature tourism between the genuine forest and it has exotic flora. This tourism object is officially becomes the research area for nature phenomenon for both flora and fauna. This type of tourism for this forest is adventurous tourism; the visitors who come to this place are those who seek for adventure need while enjoy the fresh atmosphere, chilling situation and great sightseeing. www.indonesia-tourism.com
---
Merbau Island Merbau is an Island and a district in the Meranti Islands regency, Riau, Indonesia. The city district is Renak Rungun. Meranti Islands Regency is a result of the expansion area Merbau District, formed on January 26, 2011. Where the Pulau Merbau District is covering the entire island of Pulau Merbau, while Merbau subdictrict covers the entire island of Padang. The island has bordered with Malaka strait in north, west Tebing Tinggi sub district in south, Merbau sub district in west, west Rangsang in east.     www.indonesia-tourism.com
---