Bagansiapiapi
---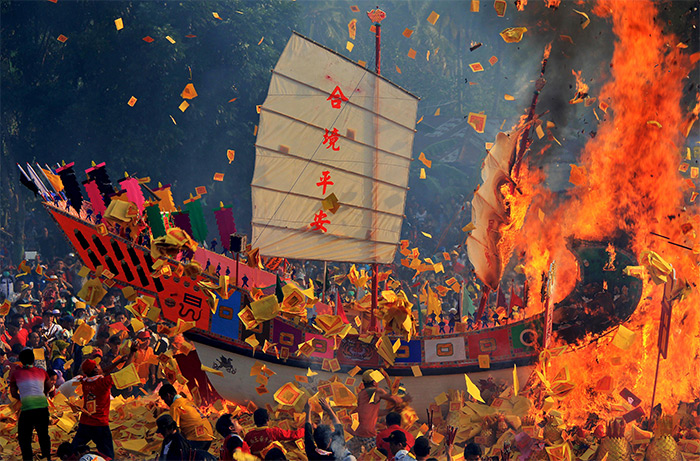 The city is somewhat special like Taiwan on the island of Sumatra. Bagansiapiapi is the capital of Rokan Hilir, Riau Province which was originally made up of immigrants from China who left their homeland to seek new dwellings to the east by sailing. Using three barges (a simple wooden boat for mining) they were bobbing in the ocean until it safely landed at Kuala Sungai Rokan in 1826 because of the fireflies that guide with the light to reach the land.
On the mainland, they were stayed and they cleared the forest land for residential and they slowly mingle with the natives. The composition of the original inhabitants is 70 percent Chinese ethnic and the rest are mostly Malays ethnic. Because of the wealth of fish that abound in this area, the settlers decided to settle down and became fisherman. Over time, the Chinese people that supported the expertise to catch fish was successfully made Bagansiapiapi to be the producer for abundant marine fish and being exported to other countries.
Bagansiapiapi grows as the city's second largest fish producer in the world after Bergen in Norway. Dutch East Indies government then glanced at the huge potential of fisheries in Bagansiapiapi and move the local government controuler from Tanah Putih to Bagansiapiapi in 1901. Bagansiapiapi City was developed as the most modern fishing harbor and passenger in the Straits of Melaka at that time.
Not only sea products that became the potential product for the community life,  there is also natural rubber. During World War I and World War II, Bagansiapiapi become one of the qualified rubber-producing areas to fulfill the need of war equipment. After World War II ended, the demand for rubber declined by some employers to close the rubber factory.
Today, one of people's supporting economy that replacing the fisheries and rubber is the cultivation of swallows, by taking its nest. There are a lot of buildings around the city that built in 3 to 4 levels, with the top roof is used as swiftlet cultivation place, while the level of 1-2 is used as a shop and home.
Like most Chinatowns with lot of Chinese descent, Bagansiapiapi presents a variety of typical Chinese cuisine that genuine and delicious. Morover, there are also some of events and culture that still be influenced by Chinese culture. Visiting This place will never dissatisfying you.

Latest News
Luxurious and quiet. Perhaps this is one of the appropriate nicknames for the calm and spacious beauty of Zamrud Lake. The lake which located in conservation area is located in Siak Sri Indrapura Regency, Riau province. Besides having a large surface, this lake also has islands. There are large and small islands. Uniquely, these islands can move. This island is marshland floating above the lake. Big and deep, of course. You can not imagine how deep this lake is. Not only that. On this big island also live thousands of…
---
This wildlife reserve forest is spread in an area of ??1,332,169 ha and it inhabited by many species of flora and fauna that typical of lowland forest. Its area of mangrove trees decorated corridor through the Kampar River, that made ??it so special among other forests which spread across the island of Sumatra. Kerumutan reserve forest is a conservation area that located in Kerumutan sub-district and spreading across two districts namely Pelalawan and Indragiri Hulu, Riau Province. The forest boundary is the River of Indragiri, Kampar River, the East Coast…
---
Rimbo Terantang tourism forest is located in Padang Lawas village. This tourism is having marvelous nature tourism between the genuine forest and it has exotic flora. This tourism object is officially becomes the research area for nature phenomenon for both flora and fauna. This type of tourism for this forest is adventurous tourism; the visitors who come to this place are those who seek for adventure need while enjoy the fresh atmosphere, chilling situation and great sightseeing. www.indonesia-tourism.com
---
Merbau Island Merbau is an Island and a district in the Meranti Islands regency, Riau, Indonesia. The city district is Renak Rungun. Meranti Islands Regency is a result of the expansion area Merbau District, formed on January 26, 2011. Where the Pulau Merbau District is covering the entire island of Pulau Merbau, while Merbau subdictrict covers the entire island of Padang. The island has bordered with Malaka strait in north, west Tebing Tinggi sub district in south, Merbau sub district in west, west Rangsang in east.     www.indonesia-tourism.com
---