Riau Fantasy
---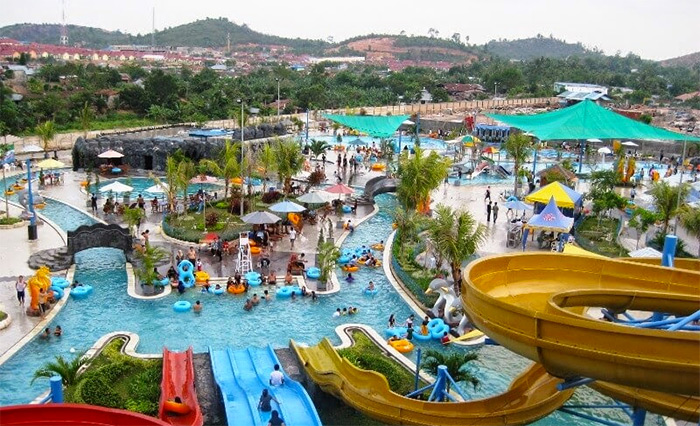 Riau Fantasy is the largest and the most comprehensive leisure parks in Sumatra, precisely in Pekanbaru. This tourism site is also known as Labersa Water and this theme Park has an area of approximately 6.5 hectares. This Riau Fantasy is divided into wet and dry rides, and it suitable for family holidays or those who want to have so much fun at water.
At the water ride, there are several types of pools and water slides, for example, boards Adventure Pool. In this pool,  there are several towers that connected by shaking bridges. There is also a hanging giant bucket which can accommodate 3,000 liters of water and is ready to flushed when fully charged. In addition, there is an adult pool with a depth of 1.5 meters and a children's pool with a depth of 30 cm, and it fitted by shower to play.
For the dry rides, there are a variety of games that will drive your adrenaline like kora-kora, sky tower, wave blaster, speedy coaster and family swinger. If you want more relaxed game, you can try the carousel and train tours. Morover, there are also facilities for public space like mosque, toilets and cafeteria in a gazebo and free WiFi.
Riau Fantasy is located in Jalan Labersa, for about 45 minutes from downtown Pekanbaru. To be able to enjoy the rides there, you have to pay 60,000 Rupiah at Monday - Friday and 70,000 rupiah on Saturday - Sunday.

Latest News
Luxurious and quiet. Perhaps this is one of the appropriate nicknames for the calm and spacious beauty of Zamrud Lake. The lake which located in conservation area is located in Siak Sri Indrapura Regency, Riau province. Besides having a large surface, this lake also has islands. There are large and small islands. Uniquely, these islands can move. This island is marshland floating above the lake. Big and deep, of course. You can not imagine how deep this lake is. Not only that. On this big island also live thousands of…
---
This wildlife reserve forest is spread in an area of ??1,332,169 ha and it inhabited by many species of flora and fauna that typical of lowland forest. Its area of mangrove trees decorated corridor through the Kampar River, that made ??it so special among other forests which spread across the island of Sumatra. Kerumutan reserve forest is a conservation area that located in Kerumutan sub-district and spreading across two districts namely Pelalawan and Indragiri Hulu, Riau Province. The forest boundary is the River of Indragiri, Kampar River, the East Coast…
---
Rimbo Terantang tourism forest is located in Padang Lawas village. This tourism is having marvelous nature tourism between the genuine forest and it has exotic flora. This tourism object is officially becomes the research area for nature phenomenon for both flora and fauna. This type of tourism for this forest is adventurous tourism; the visitors who come to this place are those who seek for adventure need while enjoy the fresh atmosphere, chilling situation and great sightseeing. www.indonesia-tourism.com
---
Merbau Island Merbau is an Island and a district in the Meranti Islands regency, Riau, Indonesia. The city district is Renak Rungun. Meranti Islands Regency is a result of the expansion area Merbau District, formed on January 26, 2011. Where the Pulau Merbau District is covering the entire island of Pulau Merbau, while Merbau subdictrict covers the entire island of Padang. The island has bordered with Malaka strait in north, west Tebing Tinggi sub district in south, Merbau sub district in west, west Rangsang in east.     www.indonesia-tourism.com
---