Lembah Sari Lake
---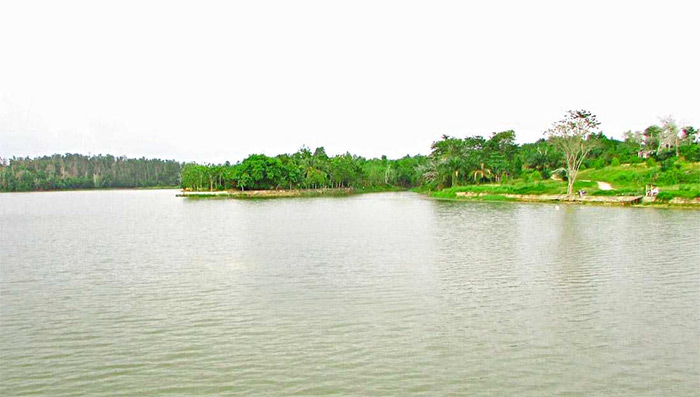 Bandar Khayangan Lembah Sari Lake is located in Rumbai sub-district and becomes one of recreation parks in Riau that much visited by tourists for family vacation.
At early begin , the local inhabitants known this lake as Danau Buatan or Artificial Lake; the lake that approximately has 16 hectares of its land was initially built to be used as a center for irrigation and serves to irrigate various agricultural land and farm in Pekanbaru.
The natural landscape around Lembah Sari lake becomes one of attractions that being offered by this lake, where there are many different types of trees that thrive around the lake, making the atmosphere around the lake shady and cool.
Lembah Sari lake has main hill where at the top of it there is an open building like a stage with no walls. This building is prepared for resting area while enjoying the sceneries and enjoying the nuance with friends.
In addition to the beautiful scenery that we can enjoy around the lake, other uniqueness is can also be seen from the occasional event that sometimes being held at this place. The activities were held is very interesting, including therowing boats racing competitions, barges boat racing, ducks racing, Islamic calligraphy exhibition, SMEs bazaar, as well as the competition among schools in Pekanbaru. During that events, there will be diverse traditional culinaries that we can enjoy around the lake, like  cendol rice, grilled fish on the leaves and more.
A shady and green atmosphere around the lake, the sound of chirping birds and the flows of the water around the lake is the things that you want to capture during your busy days at town.

Latest News
Luxurious and quiet. Perhaps this is one of the appropriate nicknames for the calm and spacious beauty of Zamrud Lake. The lake which located in conservation area is located in Siak Sri Indrapura Regency, Riau province. Besides having a large surface, this lake also has islands. There are large and small islands. Uniquely, these islands can move. This island is marshland floating above the lake. Big and deep, of course. You can not imagine how deep this lake is. Not only that. On this big island also live thousands of…
---
This wildlife reserve forest is spread in an area of ??1,332,169 ha and it inhabited by many species of flora and fauna that typical of lowland forest. Its area of mangrove trees decorated corridor through the Kampar River, that made ??it so special among other forests which spread across the island of Sumatra. Kerumutan reserve forest is a conservation area that located in Kerumutan sub-district and spreading across two districts namely Pelalawan and Indragiri Hulu, Riau Province. The forest boundary is the River of Indragiri, Kampar River, the East Coast…
---
Rimbo Terantang tourism forest is located in Padang Lawas village. This tourism is having marvelous nature tourism between the genuine forest and it has exotic flora. This tourism object is officially becomes the research area for nature phenomenon for both flora and fauna. This type of tourism for this forest is adventurous tourism; the visitors who come to this place are those who seek for adventure need while enjoy the fresh atmosphere, chilling situation and great sightseeing. www.indonesia-tourism.com
---
Merbau Island Merbau is an Island and a district in the Meranti Islands regency, Riau, Indonesia. The city district is Renak Rungun. Meranti Islands Regency is a result of the expansion area Merbau District, formed on January 26, 2011. Where the Pulau Merbau District is covering the entire island of Pulau Merbau, while Merbau subdictrict covers the entire island of Padang. The island has bordered with Malaka strait in north, west Tebing Tinggi sub district in south, Merbau sub district in west, west Rangsang in east.     www.indonesia-tourism.com
---