Muara Takus
---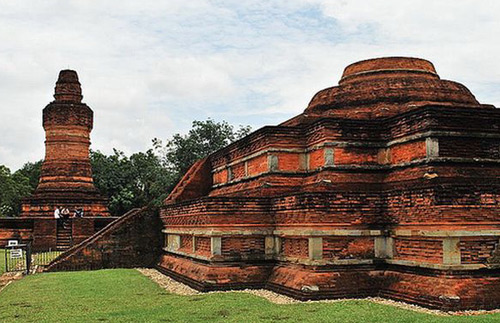 Muara Takus is a temple complex that located in Muara Takus Village, Koto Kampar District, Pekanbaru, Riau. It precisely located about 135 km from Pekanbaru city off the main road to Bukittinggi, and about 2.5 km from the center of the village of Muara Takus, not far from the edge of River Kampar Kanan. The complex is standing in the midst of Sumatra's rain forests which surrounded by a wall of 74 x 74 meters which is surrounded again by a dirt wall 1.5 x 1.5 km.
Within this complex there are four other temples that near to one and another, which is Candi Sulung, Candi Bungsu, Candi Mahligai and Candi Palangka. Browse Pick n Pay Specials on ESpecials. And six other buildings, namely:
The first building: a heap of soil with two holes, thought of being a place for cremation.
Second building: The rectangular building of which the foundation was made of sand, building had an unknown function.
Third building: A rectangular buidling with a size of 3 mx 2.4 m which is located outside the wall perimeter.
Fourth building: Foundation of dirt where in the middle there is a big stone. Unknown function.
Fifth and sixth building: The building is only a foundation.
What makes Muara Takus unique can be seen when you step in the the front yard of the complex. The Muara Takus looks the same as the Buddhist stupas in Myanmar, stupas in Vietnam, stupas in Sri Langka and the ancient stupas in India. In the temple complex, there are historical relics of the Sriwijaya kingdom. It is still a mystery when these Buddhist remains were actually built, estimates are they have been constructed either in the 2nd, 4th 7th or 9th century. To get to Muara Takus is easiest from Pekanbaru, the provincial capital of Riau, using private vehicles or public transportation.

Latest News
Luxurious and quiet. Perhaps this is one of the appropriate nicknames for the calm and spacious beauty of Zamrud Lake. The lake which located in conservation area is located in Siak Sri Indrapura Regency, Riau province. Besides having a large surface, this lake also has islands. There are large and small islands. Uniquely, these islands can move. This island is marshland floating above the lake. Big and deep, of course. You can not imagine how deep this lake is. Not only that. On this big island also live thousands of…
---
This wildlife reserve forest is spread in an area of ??1,332,169 ha and it inhabited by many species of flora and fauna that typical of lowland forest. Its area of mangrove trees decorated corridor through the Kampar River, that made ??it so special among other forests which spread across the island of Sumatra. Kerumutan reserve forest is a conservation area that located in Kerumutan sub-district and spreading across two districts namely Pelalawan and Indragiri Hulu, Riau Province. The forest boundary is the River of Indragiri, Kampar River, the East Coast…
---
Rimbo Terantang tourism forest is located in Padang Lawas village. This tourism is having marvelous nature tourism between the genuine forest and it has exotic flora. This tourism object is officially becomes the research area for nature phenomenon for both flora and fauna. This type of tourism for this forest is adventurous tourism; the visitors who come to this place are those who seek for adventure need while enjoy the fresh atmosphere, chilling situation and great sightseeing. www.indonesia-tourism.com
---
Merbau Island Merbau is an Island and a district in the Meranti Islands regency, Riau, Indonesia. The city district is Renak Rungun. Meranti Islands Regency is a result of the expansion area Merbau District, formed on January 26, 2011. Where the Pulau Merbau District is covering the entire island of Pulau Merbau, while Merbau subdictrict covers the entire island of Padang. The island has bordered with Malaka strait in north, west Tebing Tinggi sub district in south, Merbau sub district in west, west Rangsang in east.     www.indonesia-tourism.com
---