Tujuh Tingkat Batang Koban Waterfall
---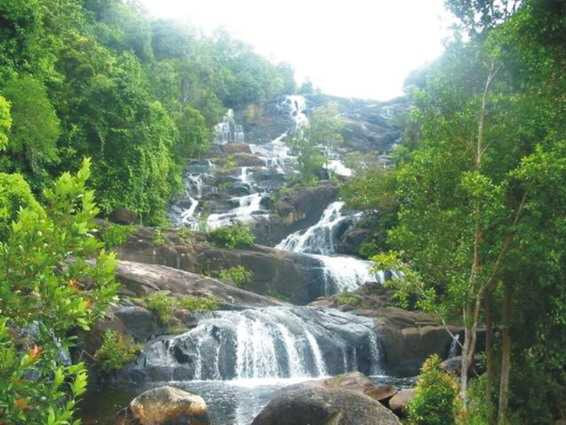 Air Terjun Tujuh Tingkat Batang Koban is located in Lubuk Ambacang village, Hulu Kuantan sub-district, Kuantan Singingi regency, Riau. The name of the waterfall is taken for the stream that falls into seven stairs of wall and it flows into the flow of the Kuantan River. The height of the waterfall is varied for each grade; the first level of the waterfall to the fourth level reaches a height of between 5-15 meters. Even at a level sixth is reaching a height of about more than 30 m.
This waterfall is generally crowded by the visitors during the Balimau bathing that held one day before the month of Ramadan.
Located about 37 Km from Teluk Kuantan bay, to go to the location of the waterfall is can be reached by public or private vehicles from Teluk Kuantan towards Hulu subdistrict. After Lubuk Jambi the capital city of Kuantan Mudik (22 Km from Teluk Kuantan) will be found a crossroads, to the right as far as 11 Km will be up to Lubuk Ambacang Capital District of Hulu Kuantan; and It takes 20 minutes' drive.
Another way is taken by entering the village of Jake, which takes 40 minutes. Towards the village of Lubuk Ambacang, from Koto Kombu we pass through a concrete bridge crosses Batang Kuantan River. The journey continues by boat or motorized canoe (pompom) as far as 4 km through rivers flow into the upstream side with a travel time of about 15 minutes. This boat can be found below about the bridge or in Lubuk Ambacang market, with the rental price of Rp.150 thousand. After passing a hill with a slope between 45 to 70 degrees and Tempurung Island, we will finally arrive to the location of the waterfall. From the pier, after the boat landed, the first level of waterfall is already being seen. If you want to go to the next level (up to level four) we have to down the cliffs through concrete steps between the trees that still genuine.
To go to the seventh level from the fourth level, we must take more severe terrain by hanging among the tree roots. The distance between these waterfalls is between 50-100 meters. Around the nuance during the trekking to the waterfall there is very beautiful natural scenery with steep hills and protected forests pristine. Moreover, along the way, the visitors can see monkeys, birds and other forest animals, as if to welcome visitors.

Latest News
Luxurious and quiet. Perhaps this is one of the appropriate nicknames for the calm and spacious beauty of Zamrud Lake. The lake which located in conservation area is located in Siak Sri Indrapura Regency, Riau province. Besides having a large surface, this lake also has islands. There are large and small islands. Uniquely, these islands can move. This island is marshland floating above the lake. Big and deep, of course. You can not imagine how deep this lake is. Not only that. On this big island also live thousands of…
---
This wildlife reserve forest is spread in an area of ??1,332,169 ha and it inhabited by many species of flora and fauna that typical of lowland forest. Its area of mangrove trees decorated corridor through the Kampar River, that made ??it so special among other forests which spread across the island of Sumatra. Kerumutan reserve forest is a conservation area that located in Kerumutan sub-district and spreading across two districts namely Pelalawan and Indragiri Hulu, Riau Province. The forest boundary is the River of Indragiri, Kampar River, the East Coast…
---
Rimbo Terantang tourism forest is located in Padang Lawas village. This tourism is having marvelous nature tourism between the genuine forest and it has exotic flora. This tourism object is officially becomes the research area for nature phenomenon for both flora and fauna. This type of tourism for this forest is adventurous tourism; the visitors who come to this place are those who seek for adventure need while enjoy the fresh atmosphere, chilling situation and great sightseeing. www.indonesia-tourism.com
---
Merbau Island Merbau is an Island and a district in the Meranti Islands regency, Riau, Indonesia. The city district is Renak Rungun. Meranti Islands Regency is a result of the expansion area Merbau District, formed on January 26, 2011. Where the Pulau Merbau District is covering the entire island of Pulau Merbau, while Merbau subdictrict covers the entire island of Padang. The island has bordered with Malaka strait in north, west Tebing Tinggi sub district in south, Merbau sub district in west, west Rangsang in east.     www.indonesia-tourism.com
---