Riau Province
---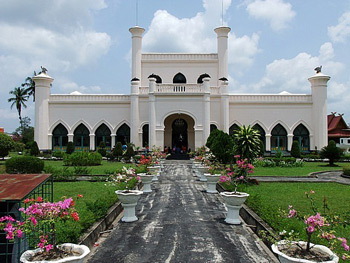 Riau province is one of the fastest growing parts of Indonesia in terms of economic, population and tourism. Riau Province occupies the central part of eastern region on Sumatra Island, which straddles between Malacca Straits, South China Sea and Berhala Straits. The Province is a strategic region as it directly faces Malacca Straits and Singapore, one of the busiest shipping lanes in the world.
Riau is one of the richest provinces in Indonesia. This province is rich with natural resources, particularly petroleum and natural gas, rubber, and palm oil. The majority of the province is heavily forested lowland; logging is a major industry in the province.
Geographically
Geographically, Riau Province lies on 445' North Altitude up to 115' South Longitude or 10003' up to 10919' Greenwich and 650' up to 145' West Longitude Jakarta, with natural borders as follows:
North side: North Sumatra Province, Malacca Straits
South side: Jambi Province
West Side: West Sumatra Province
East side: Riau Archipelago
Administratively
Riau Province is administratively divided into 9 Regencies (Bengkalis, Indragiri Hilir, Kampar, Kuantan Singingi, Pelalawan, Rokan Hilir, Rokan Hulu, Siak) and 2 cities (Pekanbaru, Dumai), with Pekanbaru as the capital city.
Climate
This region is dominantly characterized by the sea climate with average temperature of 30°C at day and 23°C at night throughout the year. Rainy season falls on November (sometimes October) up to April while dry season begins in July. Riau has tropical climate and in general is classified into climate type "A" with relatively high rainfall, ranging from 2,000 to 3,000 mm per year in average.
Topography
Most areas in Riau are lowland plain, including alluvial islands scattered along coastal line with average elevation less than 200 m above sea level. In mainland region, there are four big rivers, i.e. Rokan River, Siak River, Kampar River and Indragiri River. These rivers spring from Bukit Barisan mountain range stretching along the border Riau Province and West Sumatra Province, and flow down to Malacca Straits. The rivers play an important role as the means of transportation, sources of irrigation, energy, and clean water as well as fishery resources. Archipelagic region of Riau, on the other hand, is formed of volcanic formation in the form of islands, big and small. The soil is in general of Organosol type (Histosol), containing much organic substance. Wide Area
The territorial size of Riau Province is 329,867.16 km consisting of land area 94,561,61 Km2 and water area 235,306,00 Km2. Riau population is 4,948,000 (2000 census).

Latest News
Luxurious and quiet. Perhaps this is one of the appropriate nicknames for the calm and spacious beauty of Zamrud Lake. The lake which located in conservation area is located in Siak Sri Indrapura Regency, Riau province. Besides having a large surface, this lake also has islands. There are large and small islands. Uniquely, these islands can move. This island is marshland floating above the lake. Big and deep, of course. You can not imagine how deep this lake is. Not only that. On this big island also live thousands of…
---
This wildlife reserve forest is spread in an area of ??1,332,169 ha and it inhabited by many species of flora and fauna that typical of lowland forest. Its area of mangrove trees decorated corridor through the Kampar River, that made ??it so special among other forests which spread across the island of Sumatra. Kerumutan reserve forest is a conservation area that located in Kerumutan sub-district and spreading across two districts namely Pelalawan and Indragiri Hulu, Riau Province. The forest boundary is the River of Indragiri, Kampar River, the East Coast…
---
Rimbo Terantang tourism forest is located in Padang Lawas village. This tourism is having marvelous nature tourism between the genuine forest and it has exotic flora. This tourism object is officially becomes the research area for nature phenomenon for both flora and fauna. This type of tourism for this forest is adventurous tourism; the visitors who come to this place are those who seek for adventure need while enjoy the fresh atmosphere, chilling situation and great sightseeing. www.indonesia-tourism.com
---
Merbau Island Merbau is an Island and a district in the Meranti Islands regency, Riau, Indonesia. The city district is Renak Rungun. Meranti Islands Regency is a result of the expansion area Merbau District, formed on January 26, 2011. Where the Pulau Merbau District is covering the entire island of Pulau Merbau, while Merbau subdictrict covers the entire island of Padang. The island has bordered with Malaka strait in north, west Tebing Tinggi sub district in south, Merbau sub district in west, west Rangsang in east.     www.indonesia-tourism.com
---