Wisma Patra Swimming Pool in Tarakan City, North Kalimantan Province
---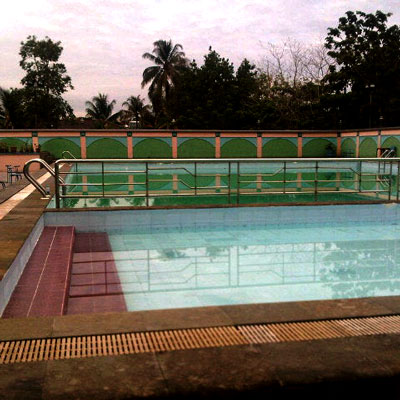 In Tarakan City, tourists may find some good places to spend a vacation with families. These include Wisma Patra Swimming Pool, which is located in Pamusian Village of Central Tarakan Sub-District. As the name suggests, visitors can enjoy swimming and playing water during the visit. It is suitable for those who have that hobby. Even though it is not as popular as waterparks that reside in big cities, visitors would have a satisfying experience there. For parents who come with children, though, they should supervise the kids due to the depth of the pool. The site only suits adults or those with experiences, after all.
The Nuance
Once arriving at Wisma Petra Swimming Pool, tourists would see a serene and vast swimming pool right away. The size is vast and the condition is good. In the past, the local government didn't take a good care of it though. Thanks to the popularity. It gets better maintenance over time. These days, it has an excellent standard. The keepers work diligently and clean the pool each day early in the morning. As for the facilities, tourists can find toilets and showering rooms in that area. No food vendors are available, so tourists must prepare snacks and drinks before visiting the pool later.
Exploring Wisma Patra Swimming Pool
Swimming becomes the prime activity that tourists may do in Wisma Patra Swimming Pool. Here is the thing. This pool is meant for professional swimmers or those who have the experience. That means it is not suitable for kids or those who can swim in a deep pool. Despite the fact, visitors can enjoy other things in that area. It is as simple as sitting by the pool and enjoying the nuance.
The best time to visit Wisma Patra Swimming Pool is in the afternoon or at noon. It is because the keepers would clean the pool in the morning, so tourists won't be able to swim in it. The keepers even use modern equipment to clean it. No wonder, the circulation is smooth and water quality is superb. It is even said the pool has no bacteria living in it!
Here is another consideration. Tourists should come to Wisma Patra Swimming Pool during a special event or swimming competition. Instead of swimming, they may see an interesting competition and take photos during the event. Usually, it is done during Indonesia's independence ceremony. The nuance becomes merrier at the time, so don't miss it!
Nearby Attractions

Baloy Adat Tidung
Oval Field Park
Datu Adil Stadium
How to Get There
From Jakarta (Soekarno – Hatta International Airport), tourists can get an airplane and head to Tanjung Selor City (Tanjung Harapan Airport) right away. For the information, this flight may take around 1 day and 11 hours. After arriving at the site, tourists should take a boat at Kayan Port and head to Tengkayu Port in Tarakan Island. From Tengkayu, they need to take Kusuma Bangsa Street in order to reach Wisma Patra Swimming Pool. The distance is 5.1 km, so the trip takes approximately 10 minutes.
Where to Stay

Swiss Belhotel
Padmaloka Hotel