Karungan Waterfall in Tarakan City, North Kalimantan Province
---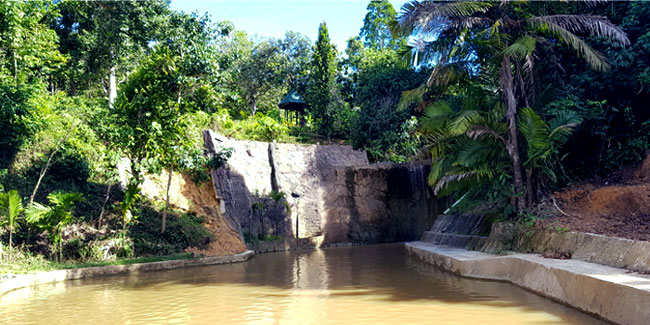 More natural attractions are available for tourists to explore when spending a vacation in Tarakan City, especially when it comes to waterfalls. Here is an example. The name is Karungan Waterfall and it belongs to East Tarakan Sub-District. As the name suggests, the waterfall resides in Karungan Village. Usually, the site is crowded on weekends as many locals gather for sightseeing and relaxation. As for tourists, they can enjoy a new nuance and get closer to nature. It is considered more valuable than spending a vacation in big cities, no?
The Nuance
When it comes to nuance, Karungan Waterfall offers both serene and merry nuance. How come? It becomes peaceful during regular days, due to a low number of visitors. On the other hand, the site turns merry during weekends and holidays. The location is strategic, so it is quite accessible too. The local government even provides several facilities to the site, including gazebos and a suspension bridge (having the length of 30 meters). As for the waterfall, the height is 10 meters. It even features a natural pond for bathing and playing water. Plus, the site is surrounded by plants and lush trees. The forest nuance makes it more comfortable for relaxation, without a doubt.
Exploring Karungan Waterfall
The good news is tourists don't need to pay a ticket in order to get in the location. That means they can enjoy numerous activities without spending money! What they need is a good stamina in order to explore the site. As for the most popular activity, visitors are likely to enjoy sightseeing. They may climb a higher ground to witness a better view, later. The landscape is considered easy, so everyone must be able to reach that viewing spot without hassles.
The next allure is the water discharge itself. Tourists can take photos or take a shower under it. As an alternative, they should swim on the natural pond (which is located below the waterfall). The depth is even suitable for kids and the water feels refreshing. During the rainy season, though, the landscape becomes slippery so tourists should be careful when climbing or exploring the site. It is also recommended to wear suitable footwear when visiting Karungan Waterfall.
For the information, Karungan Waterfall features a suspension bridge where tourists can enjoy sightseeing and photography. The local government even provides kids' playground and fishing spot! Thus, tourists should not forget to carry a fishing rod and other equipment.
Nearby Attractions

Sejarah Perminyakan Museum
Berlabuh Park
Amal Beach
How to Get There
Tourists' first destination is Tanjung Selor City, which is the capital of North Kalimantan Province. The best way to get there is by airplane, actually. For instance, the flight may take about 1 day and 11 hours from Soekarno – Hatta International Airport at Jakarta City. After arriving at Tanjung Harapan Airport, tourists should head to Kayan Port and ride a boat to Tengkayu Port (Tarakan Island). Later, after arriving at Tengkayu, they should take Kusuma Bangsa Street and head to Karungan Waterfall right away. The distance is 10.4 km, so the trip takes approximately 20 minutes.
Where to Stay