Berlabuh Park in Tarakan City, North Kalimantan Province
---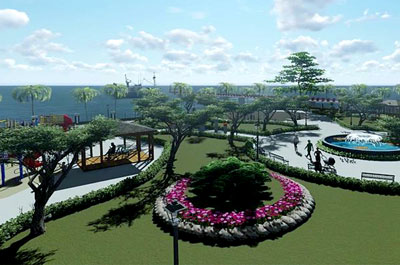 People who live in Tarakan City are familiar with Taman Berlabuh or Berlabuh Park. They even visit it regularly on weekends or during their spare time. The fact is the site also becomes one of the best tourist allures in Tarakan Island. No wonder, tourists and outsiders start recognizing it these days. Berlabuh Park is located in Karang Anyar Village and belongs to West Tarakan Sub-District. To be exact, the park resides on Yos Sudarso Street and it is located by Pertamina Jembatan Besi Port. In the past, this site became a spot where boats dropped by. As time went by, though, the local government decided to build a beautiful green park in that area.
The Nuance
Once arriving at Berlabuh Park, tourists may see a big red name sign by the shore. This spot often becomes a background for photography as well (taking selfies). The next noticeable feature is the soothing nuance of the sea. The wind is warm and the view is relaxing. Not to mention tourists may find several facilities like wooden benches, fountain pool, skateboard court, park, and playground. Another great feature is the presence of sunset that beautifies the sea scenery on the horizon! Thus, it is recommended to come at dusk to witness that beauty.
Exploring Berlabuh Park
It is true the local government once closed Berlabuh Park for a while. The purpose was to conduct a facility repair on the site. No wonder, the park becomes more sophisticated these days. Thanks to the government. Some tourists even wonder the motive behind the repair. It is true the prime reason was to improve the quality. However, it was also because of the damages caused by local vandals.
Due to a stricter regulation, visitors are not able to act carelessly in Berlabuh Park. That means adults are not allowed to ride kids' rides, in order to avoid damages. Next, tourists are not allowed to swim in the water fountain! As an alternative, they can simply sit or stand in front of the fountain and take photos in front of it. Here is another idea to spend a good time in the park. Tourists should carry snacks or drinks and enjoy eating together with families. One thing, they must not litter at all cost!
Relaxation, sightseeing, and photography are some popular things to do in Berlabuh Park. However, tourists can also learn the history regarding the site. It is said the site was once used as a leaning place for big boats. Thanks to the local government. They turned it into a beautiful park with amazing scenery.
Nearby Attractions

Oval Lingkas Park
RTH Jembes
How to Get There
The first destination is Tanjung Selor City (the capital of North Kalimantan Province). From Jakarta City, in this case, they should take an airplane from Soekarno – Hatta International Airport and head to Tanjung Harapan Airport. This flight may take around 1 day and 11 hours. Next, they only need to find a boat service at Kayan Port and head to Tengkayu Port at Tarakan Island. From Tengkayu, it takes about 13 minutes to reach Berlabuh Park as the distance is 1 km. The best route is Yos Sudarso Street, actually.
Where to Stay

Tranzit Hotel
Airy Hotel
Grand Taufiq Hotel