Datu Adil Stadium in Tarakan City, North Kalimantan Province
---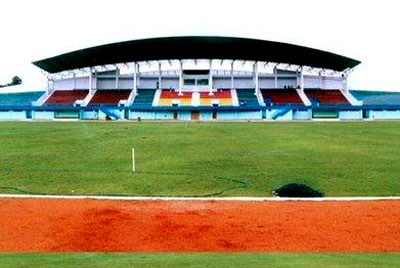 Tourists have a different preference when it comes to spending a vacation. Some of them choose to visit natural attractions while others simply visit several landmarks like a stadium. What about those who visit Tarakan City? Can they find one? The region has the famous Datu Adil Stadium, so don't worry. This stunning stadium is located in Pamusian Village and it belongs to Central Tarakan Sub-District. The best time to visit the stadium is indeed during sports competitions. However, tourists also visit it during regular days for a more peaceful nuance and lower number of visitors.
The Nuance
Even though Datu Adil Stadium is smaller than superior stadiums in big cities, both the nuance and design are satisfying enough for tourists. According to the locals, the stadium is able to accommodate up to 15 thousands of visitors. In terms of type, it applies an old-style soccer stadium. The environment is clean and neat. The grass is green and well-maintained, so it emits a comfy and beautiful ambiance. Knowing the fact, tourists should be more attention to the environment during the visit. This means littering is highly prohibited.
Exploring Datu Adil Stadium
For some people, spending a vacation in a stadium sounds uncommon. Have no worries. It gives a distinct experience to them. So, what can people do when visiting Datu Adil Stadium? Well, it can be as simple as sightseeing. They can either appreciate the outdoor or indoor area, later. As for the best time to visit, it depends on each one's preference. For example, some people only come during a soccer competition. They want to watch the match and support their favorite tea. Usually, these people are the locals or those who love soccer matches.
The next benefit thing that tourists can do in Datu Adil Stadium is related to history. The stadium becomes the home of local soccer club called PS. Tarakan. Tourists can learn both the construction date and further information regarding the stadium from either the keepers or a local guide later. The fact is the local government once displayed a giant national flag on the site! The size reaches 120 x 50 meters, and the weight is around 500 kg!
The next common reason to visit Datu Adil Stadium is to conduct photography. Tourists can visit it regardless of the time aside from competition dates. Also, it is recommended to ask permission from the keepers first before entering the stadium. Here is another consideration. Visitors should avoid littering at all cost!
Nearby Attractions

Wisma Patra Swimming Pool
Baloy Adat Tidung
Unique Tree Park
How to Get There
The first destination is Tanjung Harapan Airport at Tanjung Selor City. From Jakarta City (Soekarno – Hatta International Airport), the flight may take around 1 day and 11 hours. Have no worries. This long flight is worth the effort. Once arriving at the airport, the next destination is Kayan Port where tourists can get a boat service. Their destination is Tengkayu Port at Tarakan Island, actually. After arriving at Tengkayu, they can simply take Kusuma Bangsa Street and head to the stadium right away. The distance is 4.7 km, so the trip may take around 10 minutes or less.
Where to Stay

Lembasung Hotel
Bahtera Hotel