Tarakan Mangrove Forest in Tarakan City, North Kalimantan Province
---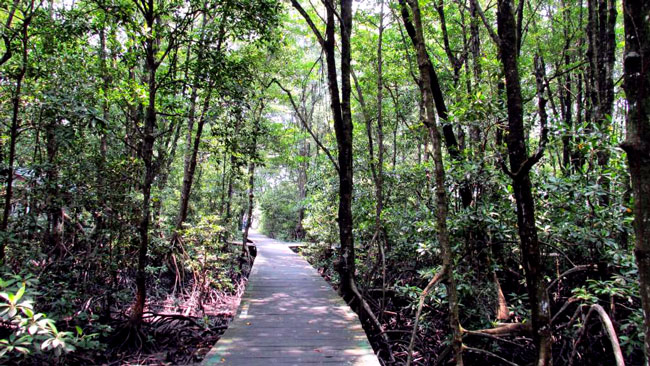 Tarakan City is part of North Kalimantan Province and it has become another good choice when it comes to a vacation. One of the allures is the presence of famous Tarakan Mangrove Forest. The location is in Karang Rejo Village and it belongs to West Tarakan Sub-District. As tourists may expect, they can enjoy an exploration there. Visitors are likely to take photos of those mangroves and learn more about those plants. That means parents can introduce both the function and benefits of mangroves for the environment. The peaceful nuance also helps visitors to enjoy relaxation while exploring the site.
The Nuance
In terms of nuance, Tarakan Mangrove Forest offers both serene and comfy ambiance. At the gate, tourists can see a unique proboscis monkey statue. The statue represents the presence of those exotic animals that live in that conservation area, after all. That means the site offers more than mangrove trees! No wonder, lots of people keep coming to the forest due to those multiple treats. What is next? For the information, the site has the total area of 21 hectares. It becomes the lungs of Tarakan City and helps to repel sea abrasion!
Exploring Tarakan Mangrove Forest
Before exploring the mangrove forest, tourists should drop by at the gate for a while. The purpose is to take photos in front of "Bekantan" statue. After that, they must buy the ticket and start exploring the forest. Wearing comfy footwear and carrying a camera are the two most important preparations. It is because tourists need to spend some time to explore all parts of the forest. Have no worries. The tiredness is paid off once they find some great spots for photography and sightseeing.
Due to the abundant mangroves, the site feels shady and comfortable. That means tourists don't need to worry even though they come at noon. Here is the tip. Before exploring the forest, everyone must consider hiring a local guide first. This person can help to show direction and give information during the exploration, after all. With only some small amount of money, tourists would have a good experience later. So, it is worth the expense!
Aside from exploring the mangroves, visitors would see lots of proboscis monkeys in that forest as well! The fact is the site consists of about 22 types of mangroves and more than 30 Bekantan (proboscis monkeys). These animals live freely, so tourists have the chance to approach them! Some hang on trees while others are curious with tourists. Sometimes, these exotic animals approach people for foods! So, do not miss this chance!
Nearby Attractions

Nur Iman Mosque
RTH Jembes
Rumah Bundar Museum
How to Get There
From Soekarno – Hatta International Airport in Jakarta City, a flight to Tanjung Harapan Airport (Tanjung Selor City) may take around 1 day and 11 hours. Later, after arriving at the destination, tourists should find a boat service at Kayan Port and head to Tengkayu Port in Tarakan Island. Usually, the voyage may take around 5 hours. After arriving at Tengkayu, the next destination is definitely Tarakan Mangrove Forest. The distance is 3.1 km, so this trip only takes about 10 minutes. Tourists can even get there faster by taking Yos Sudarso and Gajah Mada Street.
Where to Stay

Gajah Mada Hotel
Segiri Hotel