Sejarah Perminyakan Museum in Tarakan City, North Kalimantan Province
---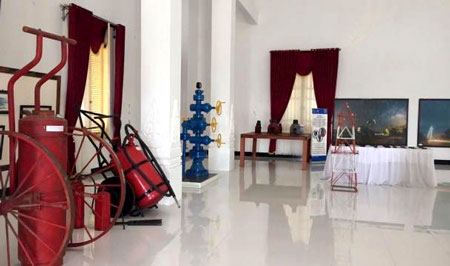 Tarakan City is known for its natural attractions and culture. Somehow, the region is also known for its historical buildings. For instance, there is the Sejarah Perminyakan Museum in East Tarakan Sub-District. "Sejarah" means history while "Perminyakan" means oil industry. As the name suggests, the museum stores information and historical items related to the nation's oil industry during the reign of the Dutch. No wonder, it becomes a good place to learn history and get a distinct vacation experience. Parents can also introduce their kids to history during the visit. Not to mention it is worth photography as well.
The Nuance
The building is considered new, so tourists would feel comfy due to the clean and neat environment. In terms of design, it applies the combination of Greek and Dutch's architecture. This explains why tourists are likely to take selfies in front of it. Located beside it, another famous museum resides which is called Perang Dunia II Museum. That means tourists can explore two different places at once during the visit. Each of the museums offers a different collection and information, though. Thus, everyone should not miss the chance to visit those museums later.
Exploring Sejarah Perminyakan Museum
Some tourists, especially outsiders, may wonder what they can do in Sejarah Perminyakan Museum. The first recommended thing is to learn the history. It is said Tarakan Island contained an abundant oil source. No wonder, the Dutch decided to build an oil ridge there. It even attracted Nippon to conquer Tarakan. Fortunately, Indonesia was able to obtain the independence and claimed it as their natural resource. Tourists can learn further about it either from the keeper or a tour guide later, so don't worry.
According to the local government, Sejarah Perminyakan Museum is meant as an edutainment for both the locals and tourists. The purpose is to give information regarding the development of the oil industry in Tarakan since the reign of the Dutch until recent days. It gives a distinct vacation experience to tourists, therefore. Parents also have the chance to teach their kids regarding the oil industry and learn the names of the items inside the museum.
Once entering Sejarah Perminyakan Museum, tourists may see numerous types of old drilling tools, photos, documentation, and much more. Taking photos is allowed, but tourists should not touch those items! The keepers prohibit visitors to spoil and cause harms to those historical objects, after all. Another important consideration is related to the environment. Littering is definitely prohibited!
Nearby Attractions

Baloy Adat Tidung
Taman Berlabuh
Amal Beach
Rumah Bundar Museum
Sejarah Perang Dunia II Museum
How to Get There
From Soekarno – Hatta International Airport at Jakarta City, a flight to Tanjung Harapan Airport in Tanjung Selor City may take around 1 day and 11 hours. It can be either faster or long depending on the weather, though. Once arriving at Tanjung Selor City, the next destination would be Kayan Port. From there, tourists can take a boat and head to Tengkayu Port in Tarakan Island. Later, after arriving at Tengkayu, tourists can simply take Kusuma Bangsa Street and reach the museum directly. The distance is 6.6 km, so this trip may take around 12 minutes or less.
Where to Stay

Lembasung Hotel
Dynasty Hotel
Grand Taufiq Hotel