Tarakan Historical Bunker in Tarakan City, North Kalimantan Province
---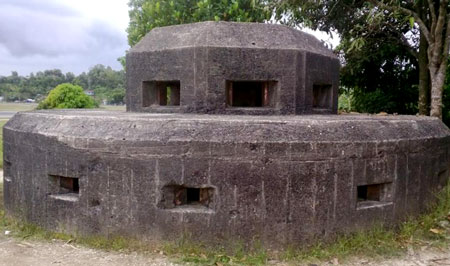 Culture, natural attractions, and traditional festivals are some allures that tourists can find in Tarakan Island. What is more? Tarakan City is also known for its history. No wonder, visitors may find several historical sites when exploring the region, especially bunkers. These were the remains of the reign of both the Dutch and Japanese back then! Due to the historical and aesthetic values, these buildings have become tourists' favorite place to conduct photography and sightseeing. These people also come to learn the history behind those bunkers! No wonder, they may come with a local guide or reliable villagers.
The Nuance
When it comes to the nuance, it can be either spooky or beautiful depending on the time of visit. If tourists come during a bright day, they can explore those bunkers freely. On the other hand, the atmosphere becomes a little bit creepy if tourists visit the site at night. Here is the next information. The location is in an open field, so tourists won't find lots of trees in that area. That means they must wear a hat and carry bottled water during the exploration (especially if they come at noon).
Exploring Tarakan Historical Bunker
Tarakan Island, in fact, has become a witness during the war against the Dutch, Japan, and the Australian army. No wonder, tourists may find many historical sites there especially bunkers. Some locals consider those building creepy, while others are proud of them. As for tourists, those constructions become an interesting object for photography instead. The fact is tourists can find more than one bunker in Tarakan City. Each of them even offers a distinct nuance. So, what are they?
The first choice is Persembunyian Bunker, which is located in Kampung I. "Persembunyian" means a hiding place. As the name suggests, the bunker was used to hide against an enemy. It is also said many people died while hiding, as they ran out of oxygen back then. Due to the tragedy, the locals consider it mystical and creepy. Some of them even said that they have seen a female ghost in that area. Have no worries. It is only a story, so tourists can explore the site comfortably.
The next recommended site is located near Juwata Airport. The locals call it Bunker Belanda or the Dutch Bunker. For the information, a war between the allies and Nippon happened in that area back then. Another horror story occurs here. It is said several soldier ghosts often occurred on the site (on a nearby hill). Once again,
Nearby Attractions

Rumah Bundar Museum
Sejarah Perminyakan Museum
Oval Field Park
How to Get There
From Jakarta City, tourists can get an airplane at Soekarno – Hatta International Airport and head to Tanjung Harapan Airport at Tanjung Selor City. This flight may take around 1 day and 11 hours, though. Once arriving at Tanjung Selor, their next destination is Kayan Port. They can ride a boat and head to Tengkayu Port afterward. From Tenkayu, the can simply take Diponegoro Street and reach the bunker right away. The distance is only 4.3 km, so the trip takes approximately 12 minutes.
Where to Stay