Al Maarif Mosque in Tarakan City, North Kalimantan Province
---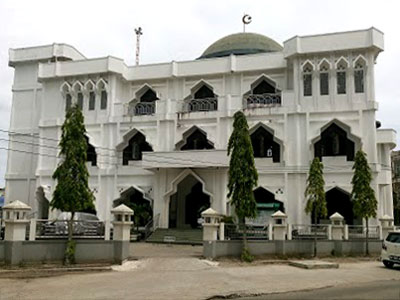 During a visit to Tarakan City, most tourists would explore natural attractions and some historical sites, no? There is an alternative, which is to visit beautiful local mosques. One of them is Al Maarif Mosque and it is located in Selumit Village at Tarakan Tengah Sub-District. The prime function is definitely to accommodate local Muslims when it comes to praying and religious events. However, these days, tourists often drop by and conduct several activities like photography, sightseeing, appreciation, etc. That means the mosque has become a new attraction in Tarakan Island, these days.
The Nuance Both sacred and peaceful nuance welcome all people who visit Al Maarif Mosque. Not to mention the location is considered strategic, so it is quite accessible for both locals and tourists. The most crowded times are during the praying times, without a doubt. What about the design? The mosque is dominantly white and it offers a clean or neat environment. It is vast and has several levels. Moreover, the parking area is able to accommodate many vehicles, so tourists can park either their motorcycle or car in that spot.
Exploring Al Maarif Mosque
Usually, tourists drop by in Al Maarif Mosque in order to rest for a while before continuing their trip or adventure. They simply sit on the terrace and even sleep on it. Here is the tip. Visitors should take "wudhu" before entering the mosque. It is a water cleansing ritual, which is often done by Moslems. Also, tourists must not spoil or litter during the visit. Not to mention causing a disturbance is prohibited, especially during prayer times. In order to avoid problems, they should come aside from those times, therefore.
One of the reasons why Al Maarif Mosque popular among tourists is related to the strategic location. The mosque resides in the heart of Tarakan City and near Juata Airport. Thus, everyone can reach it easily. It even resides on the roadside, so tourists may notice it right away while passing Yos Sudarso Street. So, what are other reasons? Sightseeing and photography are the other motives. That means visitors would explore and take photos of the mosque during the visit. Once again, they must not cause a disturbance while doing it.
The best time to visit Al Maarif Mosque is during Ramadhan. At the time, many vendors stand by in front of the mosque and sell numerous types of Islamic products including dates, skull caps, etc. Tourists can buy some as souvenirs before going back home, therefore. As for the price, it varies depending on the type and quality. Have no worries. Tourists can bargain for cheaper prices.
Nearby Attractions

BKSDA Park
Tarakan Mangrove Forest
How to Get There
The first thing to do is to reach Tanjung Selor City at North Kalimantan Province. Tourists can get there fast by airplane, for sure. From Jakarta City (Soekarno – Hatta International Airport) for example, a flight to Tanjung Harapan Airport takes approximately 1 day and 11 hours. The next thing to do is to ride a boat to Tengkayu Port at Tarakan Island. This can be done from Kayan Port, actually. What is next? From Tengkayu Port, they should take Diponegoro Street and Agus Alim Street to reach the mosque. The distance is 2.5 km, so the trip only takes about 10 minutes.
Where to Stay

Tarakan Plaza Hotel
Duta Tarakan Hotel
Padmaloka Hotel
Taufiq Inn