Baloy Adat Rumah Tidung in Tarakan City, North Kalimantan Province
---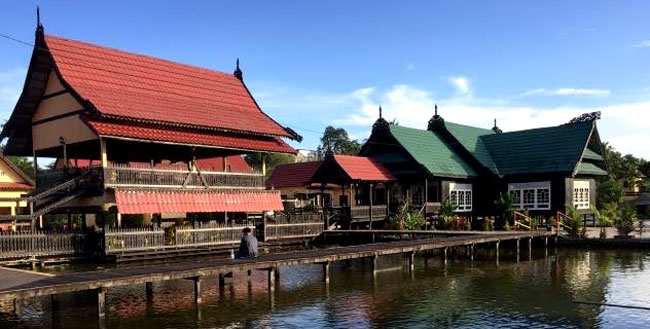 Tarakan City becomes one of the best vacation spots in North Kalimantan Province. This island has an easy accessibility, as well, so tourists can get there without hassles. Not to mention it consists of many interesting tourist sites including the one called Baloy Adat Rumah Tidung. Some people also call it Baloy House. The location is in West Tarakan Sub-District and it has become the part of Tarakan's cultural heritage for generations. As for tourists, this traditional house becomes a good place to conduct photography and appreciation. Visitors can also learn further historical and architectural values regarding the house later.
The Nuance
Once arriving at the site, tourists can feel the rural nuance right away. It is because the house emits a unique nuance due to its design. Aside from applying a traditional concept, the house also features several modern features on some of its parts. In a nutshell, it is the combination of Lamin and Dayak Traditional House! The front yard is vast and features several plants, as well. Also, the building resides in an open field and located near to a small forest. The good thing is some buildings also reside in that area, so tourists can easily find facilities like toilets and eateries.
Exploring Baloy Adat Rumah Tidung
Before entering Baloy Adat Rumah Tidung, tourists should drop by at the front yard first. The purpose is to take photos of the building and take selfies in front of it. Another reason is to find a local guide who works nearby for thorough information related to the site. After that, tourists should enter the building right away. Baloy Adat is made of ironwood and it faces the north. Despite the fact, the prime entrance is located on the south part of it.
For the information, Rumah Baloy consists of 4 rooms and tourists are allowed to explore them all. The first one is called Alad Kaid, which is used to welcome guests and conduct a meeting. Next, there is Lamin Bantong where local leaders discuss several matters and convene. The next room is called Ulad Kemagot, which is used for resting. Another room is called Lamin Dalom, where the throne of a local leader resides. It is true tourists are allowed to explore these rooms, but they must take care of the environment and do not make a fuss inside.
After exploring the building, the next recommended thing to go to the back of Rumah Baloy. At that location, tourists may find a building that resides on a pond. It becomes the place for performing several traditional arts especially Jepen Dance. Thus, tourists should come at the right time if they want to watch the dance when visiting Baloy Adat Rumah Tidung later.
Nearby Attractions

Datu Adil Museum
Unique Tree Park
How to Get There
From Soekarno – Hatta International Airport (Jakarta City), tourists can simply take an airplane and head to Tanjung Harapan Airport at Tanjung Selor City (the capital of North Kalimantan Province). This flight takes about 1 day and 11 hours, though. After arriving at Tanjung Selor, the next destination is Kayan Port where they can get a boat service to Tengkayu Port (Tarakan Island). This may take about 5 hours or less depending on the weather. From Tengkayu Port, tourists can directly head to Baloy Adat Rumah by taking Yos Sudarso Street. The distance is only 8.5 km, so the trip takes approximately 21 minutes.
Where to Stay

Bahtera Hotel
Monaco Hotel