Flora and Fauna Museum in Tarakan City, North Kalimantan Province
---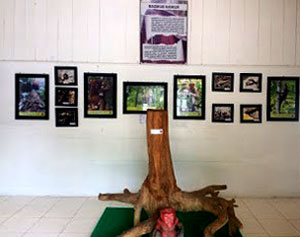 Tarakan City becomes more popular over time among tourists. The prime reason is due to the presence of several unique vacation spots like Flora and Fauna Museum. It completes everyone's adventure or those who want to explore the region thoroughly, actually. This museum is located in Pemusian Village and it belongs to Central Tarakan Sub-District. As people may expect, the museum stores numerous types of preserved animals and flora. It gives both fun and knowledge to visitors. No wonder, many local families often visit it and come with their kids during weekends.
The Nuance
Some people may wonder about the site's ambiance. Well, the nuance is peaceful and the environment is clean. It is because the keeper conducts a good maintenance there. As for the construction, it looks like a regular building and doesn't feature sophisticated facilities. Despite the fact, it features interesting collections that tourists can see once getting inside the building. They are able to learn numerous types of flora and fauna without visiting the wildlife! It would be a nice spot to spend a recreation with families, no?
Exploring Flora and Fauna Museum
The most common reason to visit Flora and Fauna Museum is to watch or learn types of animals and plants that grow in Tarakan Island. Those are only the samples, though. These preserved objects look beautiful and unique, still. With this allure, more people start recognizing the value of the museum and visit it over time. Most of the visitors are local families who come with their kids during weekends. They want to teach the children regarding flora and fauna, after all. Due to the popularity, in fact, tourists and outsiders often come to the museum too.
For the information, Flora and Fauna Museum is located in Danau Jempang Street and opens in the morning at 8 am and closes at 4 pm. The good news is visitors don't need to pay a ticket in order to enter the museum. That means everyone is able to get in the site freely! According to the keepers, the museum stores approximately 150 types of flora and 74 types of fauna. Some of these are alive while most of them are preserved. All of them look interesting and unique, without a doubt.
Once getting in Flora and Fauna Museum, tourists may find several rooms to explore. For better information, in this case, it is better to hire a local guide who can tell thorough information regarding stored objects in the museum. It costs some money, but the service is worth it! It is better than wandering around in a clueless manner, no?
Nearby Attractions

Tarakan Mangrove Forest
Rumah Bundar Museum
Baloy Adat Tidung
Oval Field Park
How to Get There
The first destination is definitely Tanjung Selor City (the capital of North Kalimantan Province). Tourists can to Tanjung Harapan Airport by airplane for the fastest trip, actually. For instance, the flight takes around 1 day and 11 hours from Soekarno – Hatta International Airport at Jakarta City. Once arriving at Tanjung Selor, the next destination is Kayan Port where tourists can get a boat service to Tengkayu Tarakan Port. Usually, they may spend around 5 hours to get to Tarakan Island. Once arriving at Tengkayu, the last destination is Flora and Fauna Museum at Pemusian Village. This trip only takes about 9 minutes, as the distance is 3.5 km. For the information, the best route to take is Yos Sudarso and Jendral Sudirman Street.
Where to Stay

Bintang Hotel
Lembasung Hotel