Batu Mapan in Tarakan City, North Kalimantan Province
---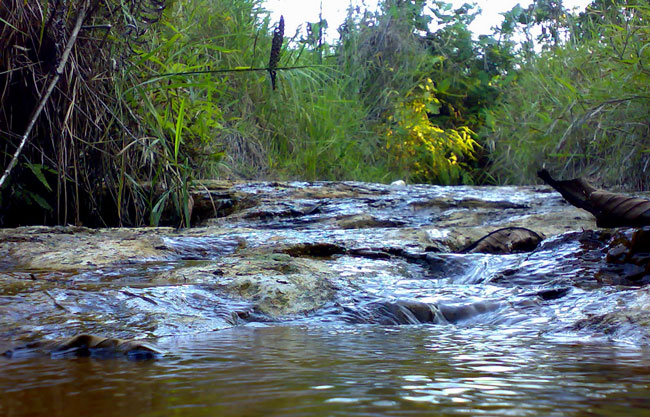 It is likely tourists won't feel bored when exploring Tarakan City in North Kalimantan Province. The reason is they are able to visit tons of vacation spots, especially related to nature. Here is the reference. The name is Batu Mapan Tourist Site, which belongs to East Tarakan Sub-District. The exact location is in Pantai Amal Village and it resides near to famous attractions like Pantai Amal and Binalatung Beach. The locals have chosen it as the best place for relaxation and relieving stresses. Not to mention tourists come to the site for numerous activities like trekking, sightseeing, camping, and much more!
The Nuance
Batu Mapan consists of many natural features, so tourists would find nothing than trees, a small river, green plants, bushes, etc. The refreshing nuance surrounds the location and soothes everyone's mind. Moreover, several trekking routes are available in that area. One of them is even suitable for rock climbing! This challenging track is not meant for beginners, though. In order to reach the spot, it takes some time and effort. That means tourists must carry enough water bottled while heading to the location later. Some people even carry a hammock and install it on the site!
Exploring Batu Mapan
The most alluring feature in Batu Mapan is none other than the landscape. It has a slope level of 90 degrees and suitable for rock climbing! What tourists need to prepare is the right equipment. They must also have an experience, though. For an easier activity, tourists can enjoy trekking instead. They can even choose a suitable route depending on their experience. For those who love challenges, they must choose the extreme route that passes through a lush forest and slippery surface.
Once arriving at the site, tourists are able to get rid of tiredness and heat of the sun right away. The refreshing and cool ambiance may soothe everyone, after all. Aside from the peaceful and refreshing nuance, tourists might hear the sound of gurgling water. It is because the site features a beautiful small river. The current is slow and the water is clear. No wonder, tourists are likely to get in the river and play water during the visit. Kids really love it!
Those who visit Batu Mapan would enjoy photography, too. They take photos of the forest and take selfies in front of the river. One thing, everyone should be careful when exploring the site. The surface is slippery, especially during a wet season. Plus, it is recommended to carry some items like a camera, mat, and hammock to get a better vacation experience in Batu Mapan. Do not forget to carry snacks and bottled water too!
Nearby Attractions

Nurul Iman Mosque
Karungan Waterfall
Berlabuh Park
How to Get There
The first destination is Tanjung Harapan Airport at Tanjung Selor City. Tourists can get there by airplane, actually. For example, the flight takes about 1 day and 11 hours in order to get there. From Tanjung Selor, tourists' next destination is Kayan Port. They can ride a boat and head to Tengkayu Port at Tarakan Island afterward. From Tengkayu, the next destination is Pantai Amal Village where Batu Mapan resides. The distance is 15.5 km, so the trip takes approximately 31 minutes. As for the best route, it is Kusuma Bangsa Street.
Where to Stay