Juwata Crocodile Breeding in Tarakan City, North Kalimantan Province
---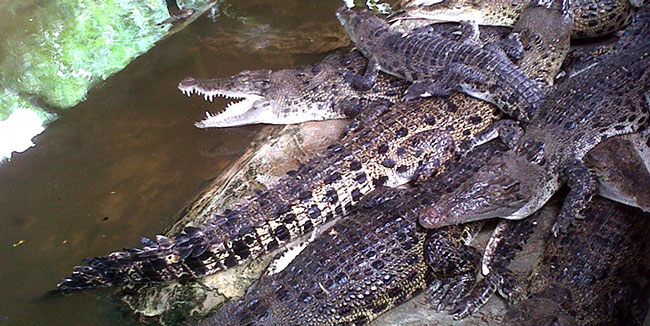 In Tarakan City, tourists may find an attractive vacation spot called Juwata Crocodile Breeding. As the name suggests, visitors are able to see lots of crocodiles directly and take photos of them from the viewing spot. The location is in Karang Harapan Village and it belongs to West Tarakan Sub-District. Also, the location is near to Juwata Airport, so everyone is able to reach the site easily. Not to mention it has become one of the best vacation destinations in Tarakan. Thus, tourists must not miss the chance to visit it when holidays come.
The Nuance
It is true not all tourists like crocodiles, but they won't regret visiting Juwata Crocodile Breeding. According to the keepers, the site has several species of crocs that live in Kalimantan Island. The breeding site resides on a land of about 5 hectares. It is said the inauguration was in 1991, and it has become famous since then. As for the nuance, the site is surrounded by big fences and trees. Have no worries. Tourists are able to watch those exotic reptiles safely from their spot. Some of the crocs are in the water while others lay peacefully on the ground!
Exploring Juwata Crocodile Breeding
It would be a waste if tourists don't visit Juwata Crocodile Breeding when visiting Tarakan Island. The site is popular among both locals and outsiders, especially those who love exotic animals. During the visit, they are able to see several species of local crocodiles including Buaya Muara, Buaya Air Tawar, and Buaya Supit. All of them look great and exotic despite their scary appearance. In terms of safety, the site is considered safe due to a nice facility and maintenance. The keepers are always ready on the location, in fact.
The crocodile collection impresses everyone. However, the site also has other allures, which is related to history. As mentioned before, Juwata Crocodile Breeding has been there since 1991. At the time, the local government wanted to raise those crocodiles for a commercial purpose. That means they may cultivate the skins and meat over time. One thing, some rare species are protected. These days, too, the site has become a new vacation destination in Tarakan City.
The newest species also resides in Juwata Crocodile Breeding now. It is called Buaya Papua, which is originated from Papua Province. Tourists would be impressed by the big number of crocodiles that live in that place. It is said more than a thousand crocs live there! Tourists can simply explore the site and conduct sightseeing and photography later. Before going back home, though, they must buy some products that are made of crocodile's skin. These include pouches, belts, wallets, etc.
Nearby Attractions

Baloy Mayo Adat Tidung
Tarakan Mangrove Forest
Sinta's Green House
How to Get There
From Soekarno – Hatta International Airport in Jakarta City, tourists can take an airplane to Tanjung Harapan Airport at Tanjung Selor City. This flight takes about 1 day and 11 hours, though. That means tourists must come with a good stamina and ample supplies in order to avoid fatigue. From Tanjung Selor, their next destination is Kayan Port. This time, they may ride a boat to Tengkayu Port at Tarakan Island. After arriving at Tengkayu, the last destination is none other than Juwata Crocodile Breeding. The distance is 9.1 km, so the trip may take about 21 minutes. As for the best route, it is Aki Balak Street.
Where to Stay

Grand Citra Hotel
Mutiara Hotel
Surya Golden Hotel