Baitul Izzah Mosque in Tarakan City, North Kalimantan Province
---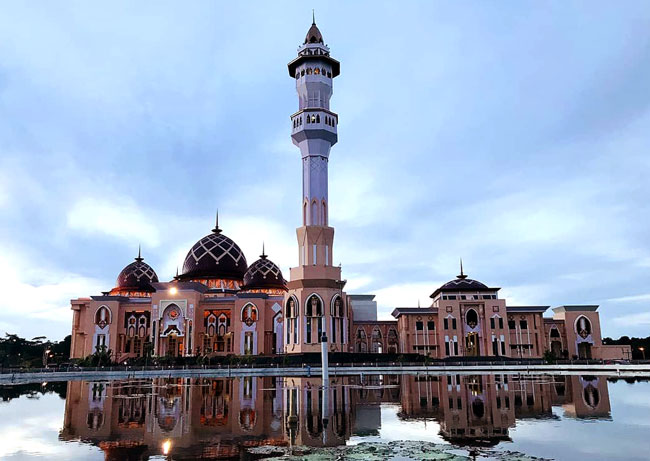 People have many motives when visiting Tarakan Island at North Kalimantan Province. Most of them want to visit natural attractions and come to several historical sites. Some of them are interested in beautiful buildings that reside in that region, though. For instance, they may drop by at Baitul Izzah Mosque for appreciating the architecture, resting, photography, and sightseeing. The location is in Kampung Empat Village at East Tarakan Sub-District. This mosque is located in the Islamic Center area, so it offers an easy accessibility. Also, it is located near Tarakan Indoor Sports Center, so tourists can visit different buildings without spending too much time.
The Nuance
The nuance is peaceful and comfortable. Thanks to Baitul Izzah Mosque's clean environment and serenity. The architecture is great and it applies both Arabic and Persian design. The size is great and it features a stunning tall tower located on the left part of the building. The mosque also has a vast yard and parking area located in front of it. Not to mention a beautiful water fountain resides in front of the mosque at the roundabout foundation. Another great feature is related to the location, which is on a roadside. To be exact, the mosque resides on Sesayap Street.
Exploring Baitul Izzah Mosque
Most people drop by in Baitul Izzah Mosque in order to rest for a while during the trip. They simply sit either on the yard or terrace of the mosque during the visit. They can even sleep on it, as long as they don't disturb the prayers. The vast size and peaceful nuance of the site help them to relax and relieve their stamina, after all. Some people even say the mosque blesses them! Moslems can also pray there during the visit before continuing the trip.
The next reason why people visit the Baitul Izzah Mosque is related to the architecture. That means tourists would appreciate and explore the mosque thoroughly. The beautiful design is amusing and the size is impressive. The fact is tourists are allowed to take photos on both exterior and interior of the mosque. Once again, visitors should do it carefully. The purpose is to avoid a disturbance during sightseeing and photography. As for the tip, they must visit the must aside from the praying times.
Another reason why Baitul Izzah Mosque becomes popular is related to the location, which is considered strategic. It is located near to a sports center! That means tourists can visit that building and watch some sports competitions there. This double treat vacation would impress all visitors, for sure.
Nearby Attractions

Baloy Adat Tidung
Sejarah Perminyakan Museum
Datu Adil Stadium
Karungan Waterafall
Berlabuh Park
How to Get There
For those coming from Jakarta City, they can take an airplane at Soekarno – Hatta International Airport to Tanjung Harapan Airport at Tanjung Selor City. This flight takes approximately 1 day and 11 hours, so tourists must prepare enough stamina when heading to the destination. Later, once arriving at Tanjung Selor, they should reach Kayan Port right away. They can get a boat service and reach Tengkayu Port at Tarakan Island. After arriving at Tengkayu, they should get a local transportation service and head to the mosque directly. It can be done through Kusuma Bangsa Street and the distance is 6.3 km. That means the trip may take around 12 minutes.
Where to Stay