Gusher Plaza in Tarakan City, North Kalimantan Province
---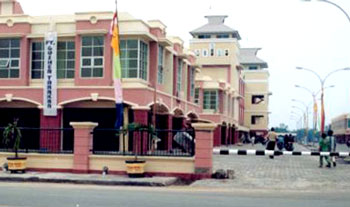 Some people are likely to visit Tarakan City in order to learn local history and visit some natural landscapes. The fact is the region also has several recommended places for shopping and hanging out. Here is an example. The name is Grand Plaza and it is located in Karang Rejo Village. In terms of region, it belongs to West Tarakan Sub-District. The inauguration was in 2002, so it is a considered new and offers a nice environment for shopping. Both tourists and locals can take advantage of the site to satisfy their shopping hobby, for sure. So, what is in there?
The Nuance
According to the locals, Gusher Plaza is the first shopping center that is built in Tarakan City. The nuance is merry as many people visit it either at noon or afternoon. On the base floor, tourists may find groceries center. As for the second and third floor, they may find food courts, department store, and supermarket. What about the design? The building applies a modern architecture and soothing paints. The red creamy color may attract passersby, for sure. Some big outdoor lighting is also seen there.
Exploring Gusher Plaza
The prime reason to visit Gusher Plaza is none other than shopping. The locals choose it as a good alternative to traditional markets. They can find more sophisticated and better quality products in that plaza, after all. After arriving at the location, tourists would be able to enjoy the clean environment and soothing nuance. In fact, no trash is seen in that area. This comfy ambiance helps tourists to enjoy shopping in a more relaxing manner, without a doubt.
What are other reasons to visit Gusher Plaza? People take advantage of the attractive design of the building for photography and sightseeing. They simply take selfies in front of some good spots, later. Some local teenagers are also seen in that area, especially in the afternoon. They want to hang out with friends and spend the afternoon outdoors! Most kids love to conduct outdoor activities instead of spending their time indoors, after all.
What is more? Gusher Plaza becomes a perfect alternative for shopping. Even though the famous Grand Tarakan Mall resides near to the area, the plaza never runs out of visitors. Both of these shopping centers have attracted tourists over time. Gusher plaza has a specialty due to its simple and more comforting landscape, though.
Nearby Attractions

Mangrove Conservation Area
RTH Jembes
Grand Tarakan Mall
How to Get There
For those coming from Jakarta City, they should get an airplane at Soekarno – Hatta International Airport and head to Tanjung Harapan Airport at Tanjung Selor City right away. For the information, this flight may take around 1 day and 11 hours. Once they arrive at Tanjung Selor, the next destination is Tengkayu Port at Tarakan Island. This can be done by riding a boat from Kayan Port, actually. Later, from Tengkayu, they can get to Grand Plaza by taking Yos Sudarso Street. The distance is 2.3 km, so the trip takes only 7 minutes.
Where to Stay

Swiss Belhotel
Milia Hotel
Galaxy Hotel
Taufiq Hotel