Grand Tarakan Mall in Tarakan City, North Kalimantan Province
---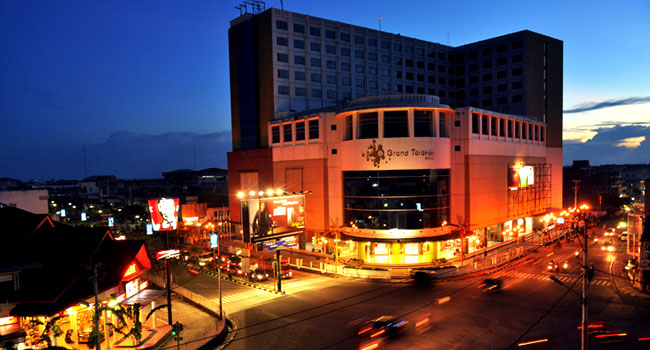 When it comes to shopping, most people who either live or visit Tarakan City would think about Gusher Plaza. However, another recommended place is available, which is called Grand Tarakan Mall. The building is located in Karang Rejo Village and belongs to West Tarakan Sub-District. That means the location is near to Gusher Plaza itself. Moreover, it is the biggest mall in North Kalimantan Province! The mall has been there since 2005 and offers numerous shops and facilities. Aside from shopping, visitors can enjoy other activities like eating and hang out. It is a great place to spend some money, for sure.
The Nuance
As mentioned before, Grand Tarakan Mall or GTM is the biggest as compared to other malls that reside in North Kalimantan Province. No wonder, the size is big and it offers a vast and comfort nuance. The inauguration was in 2005 and the prime building consists of 3 floors. On the top floor, tourists can find a swimming pool as well. It even features a hotel with 11 floors! Another impressive fact is that GTM resides in front of Plaza THM. Thus, tourists can shop in both places during the same time of visit later.
Exploring Grand Tarakan Mall
It is, without a doubt, people come to Grand Tarakan Mall for shopping. They spend their money to buy various quality items in that mall. Moreover, the mall resides in the downtown. That means tourists are able to reach location due to an excellent accessibility and many transportation services. The popularity is the best, as GTM is the only mall that tourists can find in Tarakan City and North Kalimantan Province. No wonder, almost all locals know it. It is even well-known among outsiders and tourists.
Once arriving at Grand Tarakan Mall, they may see a beautiful building right away. One thing that makes it different than other malls is related to the nuance, which is more peaceful. Despite the popularity, the male doesn't have as many visitors as other big malls! It is not a bad thing, though. Visitors enjoy the peaceful ambiance to shop in a comfortable manner there. Also, various types of vendors are available to visit. That means tourists can buy foods, groceries, music, books, electronics, etc.
As mentioned before, Grand Tarakan Mall features hotel rooms. Thus, tourists can consider staying at the hotel first and explore the mall afterward. This idea is suitable for those who carry enough money and want to spend a vacation in an exclusive way.
Nearby Attractions

Gusher Plaza
Rumah Bundar Museum
Mangrove Conservation Area
How to Get There
A flight from Soekarno – Hatta International Airport (Jakarta City) to Tanjung Harapan Airport (Tanjung Selor City) takes approximately 1 day and 11 hours. Once they arrive at Tanjung Selor, the next destination is Kayan Port where they can find a boat service to reach Tarakan Island. After arriving at Tengkayu Port in Tarakan, they should take Yos Sudarso Street and head to the mall right away. The distance is 2.2 km, so the trip may take around 6 minutes.
Where to Stay

Segiri Hotel
Milia Hotel
Makmur Hotel
Sakura Hotel