The Bais Hills Pool in Tarakan City, North Kalimantan Province
---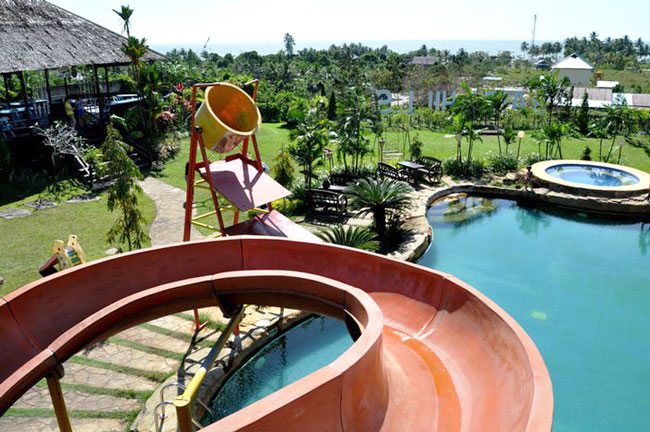 During weekends or holidays, local families often look for a new place to conduct relaxation. For those who live or visit Tarakan City, in this case, they have a great choice called The Bais Hills Pool. The location is in Pantai Amal Village at East Tarakan Sub-District and it resides near famous vacation spots like Amal Beach and Amal Mountain. So, what can tourists do there? As the name suggests, the site offers a series of pools for either swimming or playing water. This place is popular among local families with kids, without a doubt.
The Nuance
The nuance is comfortable due to the neat and clean environment. It features several types of swimming pools that tourists can enjoy, especially for kids. The site even has unique features including kids' playground and tree houses. With this outdoor concept, visitors are able to enjoy a natural nuance when swimming or playing water. Not to mention they can see sea scenery from that area. It is because the site is located on a hill (as the name suggests). Even Tarakan City landscape can be seen clearly from there.
Exploring the Bais Hills Pool
The prime reason why people visit the Bais Hills Pool is definitely for swimming or playing water. Most of these people are local families who come with their kids. Also, they visit it either during weekends or holidays. Other common visitors are tourists who spend a vacation in Tarakan City. They have heard the popularity of the pool and decide to visit it during their holiday. As for swimming experience, visitors can use either kiddy or adult pools depending on their need. Kids must choose the safe one, though.
People come to the Bais Hills Pool more than just swimming! For instance, they want to relax and enjoy the nuance. Thanks to excellent facilities. People are likely to spend much time there. The site even features tree houses and playground! Parents can let their kids play freely in those facilities, therefore. Not to mention the outdoor concept soothes all visitors including adults and children. The atmosphere even becomes fresher if tourists come early in the morning.
Another reason to visit the Bais Hills Pool is to enjoy sightseeing. The fact is the pool resides on a hill, featuring beautiful panoramas and serene ambiance. Thus, it becomes an alternative to trekking and hiking. The only difference is the presence of pools where visitors can play water or swim while enjoying the stunning scenery.
Nearby Attractions

Binalatung Beach
Amal Beach
Sejarah Perminyakan Museum
How to Get There
Those who come from Soekarno – Hatta International Airport in Jakarta City can directly head to Tanjung Harapan Airport at Tanjung Selor City (the capital of North Kalimantan Province). For the information, the flight may take around 1 day and 11 hours. From the airport, they should head to Kayan Port in order to get a boat service. The destination is Tengkayu Port in Tarakan Island. The last destination is Pantai Amal Village where the Bais Hills Pool resides. The best route is Kusuma Bangsa Street and the distance is 9.9 km. That means the trip may take about 18 minutes to reach the location.
Where to Stay