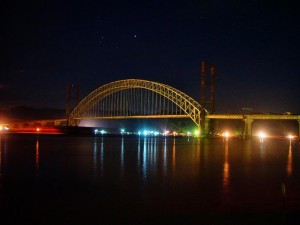 Samarinda
Samarinda is a city in East Borneo which also an official capital city for East Borneo province. The whole area of the city is directly border to the Kutai Kartanegara Regency.
There are some historical time-lines that remain the build of Samarinda city from the early time until this present time. It start from Bungaya agreement to the arrival of the Bugis to the Sultanate of Kutai, this Wajo Bugis people are living in Samarinda at the beginning of the year 1668 or precisely in January 1668 that as a benchmark to determine the anniversary of the city of Samarinda.
The local inhabitant that live in Mahakam is the people of Kutai, Banjar, Dayak, Bugis, Jawa, Toraja, Sunda, Minang and Tionghoa. The people are mostly use Bahasa Banjar or Kutai language in daily spoken or using national language of Bahasa Indonesia.
Samarinda is known for its traditional food amplang, as well as the cloth sarung samarinda. The city also has a bridge connecting the two river banks, called The Mahakam Bridge. The city center is on one side and the other side is named, Samarinda Sebrang. Mahakam bridge is also the "gateway" to the rural area or the inland of East Kalimantan.
By the geographical area in Samarinda, this city is tends to have potential cultural tourism that will make any attractive spot to the tourists. In fact, there are some destinations from Samarinda which can be visited, like, Pampang cultural tourism village, which also the home of Dayak Kenyah tribe. There is also Tanah Merah waterfall, Crocodile cultivation in Makroman, Samarinda national park, green valley recreational park, the center of Samarinda weaving craft sarong and Citra Niaga.
www.indonesia-tourism.com