Sidengkeng Hill in Kejajar Sub-District, Wonosobo
---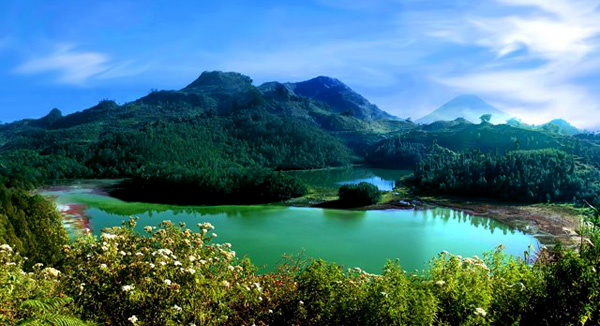 Being the most recommended vacation destination in Wonosobo and Banjarnegara District, Dieng Plateau keeps attracting more visitors. There is only one explanation for it, which is the unlimited option of nature attractions which are scattered all over the area. One of them is located in Kejajar Sub-District called Sidengkeng Hill – a perfect site to do photography and trekking. Not to mention people have their distinct reasons in visiting the hill and one of them is to enjoy flawless nature scenery like Pengilon and Warna Lake from above. Moreover, the location is easy to reach!
The Nuance
The locals also call Sidengkeng Hill as Petak 9 Tourist Site. Surrounded by beautiful nature and mesmerizing landscapes, it never fails to amaze visitors. Not only the hill offers stunning views of Pengilon and Warna Lake, but it also has a majestic background (the Prau Mountain). That immense mountain is covered by fog in the morning. What a breathtaking view! Before enjoying those views, visitors are going to see a unique gate, displaying the name of the site. Once everyone enters the location, they can find about 75 types of endemic plants scattered all over the area.
Exploring Sidengkeng Hill
The best thing is the local government keeps doing improvements over time. The purpose is that the site is able to attract more visitors in the future. Well, even without any treatments, Sidengkeng Hill won't lose its charm. Thanks to nature. Tourists often choose the site either as their prime vacation destination or a place to rest before continuing their exploration in Dieng. Here is an example. Tourists can simply sit and relax under Acacia trees, enjoying foods and refreshing air. For those who love challenging activities, the hill is suitable for trekking as well.
Along the way up to the top of Sidengkeng Hill is indeed tiring. However, the effort won't go to waste. It is quite rewarding instead. Once tourists have arrived at the hill, they can witness jaw-dropping nature views like Sindoro and Prau Mountain! As if, those stunning views help them eradicate their tiredness in an instant. The views are even better at a particular time like in the morning. The sun may rise beautifully there, hypnotizing all visitors. Not to mention the air feels fresher and more comfortable.
Trekking and sightseeing are quite common in Sidengkeng Hill. Still, there is another fun activity to do in the area such as camping! It is true there is a good spot to camp there, which is called Wana Wisata Petak 9 Camping Ground. The management provides about 100 tents so everyone won't miss the chance to spend a night there. Surrounded by beautiful flowers and nature, that camping ground won't disappoint tourists.
Nearby Attractions
Sikendil Hill
Warna Lake
Ratapan Angin
Pangilon Lake
Arjuna Temple Complex
Tieng Viewing Post
Cebongan Lake
Sikunir Hill
How to Get There
Sidengkeng Hill belongs to Kejajar Sub-District. That means the trip takes about 50-60 minutes from Wonosobo. Once visitors reach the main gate of that tourist spot, they must walk for 15 minutes to reach the top of the hill.
Where to Stay
Arjuna 2 Hotel
Budjono Hotel
Puspa Indah Hotel
Gunung Mas Hotel

Latest News
One of the many Dutch heritage forts, Van Der Wijck Fort is unique because the entire building is made of red brick. You've seen? This fort with an octagonal plan looks more charming with its red color, compared to Dutch forts which are generally colorless or white. It looks like the fort from the front and inside uses red bricks, but still with the characteristics of a Dutch fort in Indonesia which has a large building structure, such as windows, doors and rooms. With an area of 3606,625 square meters,…
---
Magelang has a number of temples as the favorite tourist destinations. Besides Borobudur, you can visit several other places, such as tourist villages. There are several tourist villages around Borobudur Temple with a unique and interesting atmosphere. In addition to saving nature, you can also get to know the culture behind it. Temanggung VillageTemanggung Village was viral because it was called Nepal van Java. The view of the village at the foot of Mount Sumbing is really epic. Tanjungsari VillageIf you are interested in the process of making honey, you…
---
Punuk Sapi BeachPunuk Sapi Beach is also popularly known as Pantai Lemah Abang which means "red land beach". It is named so because this beach is indeed filled with mounds to hills with red soil that at first glance looks like a cow's hump (punuk sapi is cow's hump in English). This beach has black sand, but it is also beautiful like the white sand beaches. There are hammocks and swings that you can use to relax, as well as take pictures from a height. This beach is located in…
---
Arjuna Temple complex is the most photographed and visited of the surviving temples on the Dieng Plateau. Situated just a few hundred meter from the homestays in Dieng village, they are an obvious first stop on a tour of the sights in the area. Though they are far from the most imposing of Javanese temples, they are the earliest surviving Hindu temples in Central Java, so they are of great importance historically. Built a century or two before the great temples around Yogyakarta and Magelang, they mark the original phase…
---