Curug Winong in Winongsari Village, Wonosobo District
---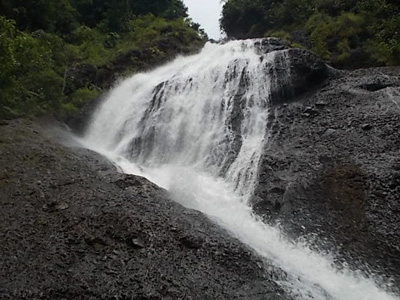 No one should overlook beautiful waterfalls that reside in Dieng Plateau. The locals call those sites "curug", actually. One of the best options to visit is located in Winongsari Village and the name is Winong Waterfall. It belongs to Wonosobo District, so all visitors who conduct a holiday in Dieng must never miss it. Located in a small forest, Curug Winong offers stunning water and calming nuance. It is true the falls reside in the midst of the forest, but it features an easy access. Visitors can even see pine trees all the way to the site.
The Nuance
There is a locket stand in the gate of the site. That means tourists must pay some fee in order to enter the location. There is even a parking area, so visitors can park their vehicle comfortably there. One thing, the fees might go up during holidays and weekends. The distance between the gate and the waterfall is about 500 meters. It takes a bit trekking to reach the site for about 15-20 minutes. It is not tiring at all, especially because of the presence of stunning landscape. Winong Waterfall has the height of 70 meters and it features a tilted landscape.
Exploring Curug Winong
Winong Waterfall has a unique characteristic, which is its slanting landscape. Due to this uniqueness, most visitors want to climb up to the top as it is considered safe and easy. Another important feature is called Watu Kelir – three big stones residing near to the falls. One of them is located exactly under the waterfall, while the others reside side by side near to the first stone. They also become an interesting object for photography among the tourists. Some of the visitors prefer to reach and stand on them than any kind of activities, though.
The plus point is related to its facilities. It is true Curug Winong is located in a secluded area, but there have been good facilities like toilets and local vendors. In other words, visitors can buy snacks and drinks at the location cheaply. The fact is they can bargain if they can talk a bit Bahasa Indonesia. The local sellers are quite friendly, after all. Moreover, some of them would be a guide for tourists. Have no worries. Their rate is affordable for everyone.
As for the tips, everyone must have prepared some money beforehand. They might need it to pay the ticket and buy some foods or drinks later. Not to mention they may also need it to rent a room and pay for transportation service. In fact, hiring a local guide is required for those who have never been in Curug Winong.
Nearby Attractions
Curug Pitu
Serayu River
Lubang Sewu
Curug Muncar
How to Get There
In order to reach Winongsari Village, travelers need to spend about 1-hour riding either using a local minibus or a car from Wonosobo Square. They may pass several checkpoints like Balaikambang and Solomerto prior to reaching Winongsari. The route is a bit complicated but is quite fun.
Where to Stay
Pison Hotel
Sokanandi Hotel
Gading Rejo Hotel

Latest News
One of the many Dutch heritage forts, Van Der Wijck Fort is unique because the entire building is made of red brick. You've seen? This fort with an octagonal plan looks more charming with its red color, compared to Dutch forts which are generally colorless or white. It looks like the fort from the front and inside uses red bricks, but still with the characteristics of a Dutch fort in Indonesia which has a large building structure, such as windows, doors and rooms. With an area of 3606,625 square meters,…
---
Magelang has a number of temples as the favorite tourist destinations. Besides Borobudur, you can visit several other places, such as tourist villages. There are several tourist villages around Borobudur Temple with a unique and interesting atmosphere. In addition to saving nature, you can also get to know the culture behind it. Temanggung VillageTemanggung Village was viral because it was called Nepal van Java. The view of the village at the foot of Mount Sumbing is really epic. Tanjungsari VillageIf you are interested in the process of making honey, you…
---
Punuk Sapi BeachPunuk Sapi Beach is also popularly known as Pantai Lemah Abang which means "red land beach". It is named so because this beach is indeed filled with mounds to hills with red soil that at first glance looks like a cow's hump (punuk sapi is cow's hump in English). This beach has black sand, but it is also beautiful like the white sand beaches. There are hammocks and swings that you can use to relax, as well as take pictures from a height. This beach is located in…
---
Arjuna Temple complex is the most photographed and visited of the surviving temples on the Dieng Plateau. Situated just a few hundred meter from the homestays in Dieng village, they are an obvious first stop on a tour of the sights in the area. Though they are far from the most imposing of Javanese temples, they are the earliest surviving Hindu temples in Central Java, so they are of great importance historically. Built a century or two before the great temples around Yogyakarta and Magelang, they mark the original phase…
---