Dieng Plateau
---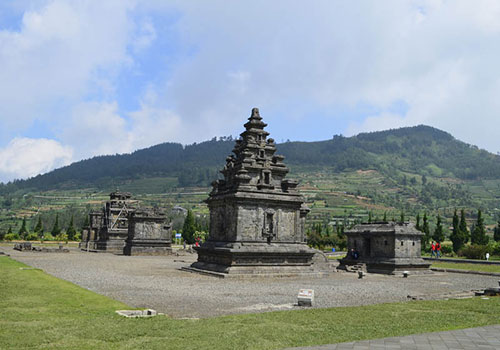 Dieng Volcanic Complex (also called the Dieng Plateau) is a complex volcano. A complex volcano is an extensive assemblage of spatially, temporally, and genetically related major and minor volcanic centers with the associated lava flows and pyroclastic rocks. This is another place worth visiting in Central Java, situated around 2000 m above sea level and 100 km from Borobudur. This area northwest of Yogyakarta is in the volcanic mountains and over 2,000 meters elevation. The name "Dieng" means "abode of the gods." There the visitor can find restarted temples build around year 800, colorful lakes and steaming ones. On the road we will see how the farmer use all the land available by using terraces. It's also fresher up here and we are almost above the clouds. The plateau, located 2,093 meters above sea level, offers two sunrises, the golden sunrise and the silver sunrise. Both are equally amazing natural phenomena. The golden sunrise refers to the first sunrise between 5:30 and 6 a.m. It is said to be golden because of its sparkling golden red color. We can enjoy this sunrise from a viewing post at a height of 1,700 meters above sea level in Wonosobo. The place, located in a mountainous area, is easily accessible because the roads leading to this area are all paved.
After savoring the beauty of the double sunrise, a natural phenomenon perhaps found only on Dieng Plateau, we could still enjoy the beauty of the surrounding nature. Walk about 10 minutes over a distance of some two kilometers to the southeast of the temple where there is a colorful lake. From the top of a hill the lake reflects a greenish yellow color, the reflection of the sulfate acid that the lake water contains. Beside this colorful lake there is another lake with pristine water. Locals call it the mirror lake because the water is very clear. The surface of the lake water also reflects sunlight. Unfortunately, this beautiful morning panorama is slightly impaired by the rampant felling of trees around the lakes. Unless the tree feeling is checked, this beautiful panorama will soon vanish for good.
Beside the beautiful panorama above, there is also small monuments, which are not more than 50 feet high stand on a crater floor amidst sulfurous fumes and underlined by the presence of a few of the starkest Shivaite temples at an elevation of more than 6.000 feet, are impressive. The site is located four hours from Semarang. In this site, the visitor will see some of the oldest Hindu temples of Java. On the way to the Dieng Plateau, visitors will pass through tobacco plantations and beautiful mountain scenery. This area can reach about four hours from Semarang, the site of some of the oldest Hindu temples on Java. These 50m-foot high monuments stand on a crater floor amidst sulfur fumes. The road to the Dieng Plateau passes through tobacco plantations and beautiful mountain scenery.
Visit Dieng Plateau Tourism

Latest News
One of the many Dutch heritage forts, Van Der Wijck Fort is unique because the entire building is made of red brick. You've seen? This fort with an octagonal plan looks more charming with its red color, compared to Dutch forts which are generally colorless or white. It looks like the fort from the front and inside uses red bricks, but still with the characteristics of a Dutch fort in Indonesia which has a large building structure, such as windows, doors and rooms. With an area of 3606,625 square meters,…
---
Magelang has a number of temples as the favorite tourist destinations. Besides Borobudur, you can visit several other places, such as tourist villages. There are several tourist villages around Borobudur Temple with a unique and interesting atmosphere. In addition to saving nature, you can also get to know the culture behind it. Temanggung VillageTemanggung Village was viral because it was called Nepal van Java. The view of the village at the foot of Mount Sumbing is really epic. Tanjungsari VillageIf you are interested in the process of making honey, you…
---
Punuk Sapi BeachPunuk Sapi Beach is also popularly known as Pantai Lemah Abang which means "red land beach". It is named so because this beach is indeed filled with mounds to hills with red soil that at first glance looks like a cow's hump (punuk sapi is cow's hump in English). This beach has black sand, but it is also beautiful like the white sand beaches. There are hammocks and swings that you can use to relax, as well as take pictures from a height. This beach is located in…
---
Arjuna Temple complex is the most photographed and visited of the surviving temples on the Dieng Plateau. Situated just a few hundred meter from the homestays in Dieng village, they are an obvious first stop on a tour of the sights in the area. Though they are far from the most imposing of Javanese temples, they are the earliest surviving Hindu temples in Central Java, so they are of great importance historically. Built a century or two before the great temples around Yogyakarta and Magelang, they mark the original phase…
---