Kyai Langgeng Park
---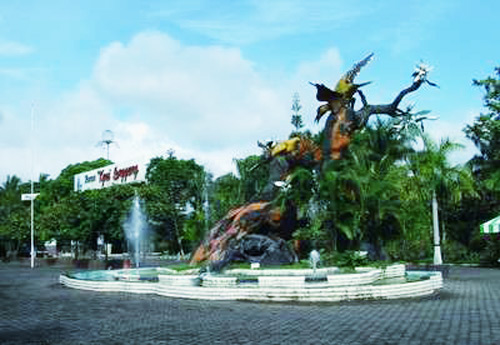 Kyai Langgeng Park located at the western part of Magelang, and occupying land of about 19 hectares, with the tranquility of a rural atmosphere, is easily accessible as it lies only about 1 km from the center of the town. Convenient public transport brings the tourist there, leaving town life behind to go back to nature.
Built by the local government of Magelang Municipality and opened its gate to the public in 1987, Kyai Langgeng Park now provides of many kinds collection of rare plants from all over Indonesia, collection of dinosaurs statues, fishing pond, traffic gardens, aquariums, green house, swimming pool, open air theater, large cages of various kinds of tropical birds, various kinds of animals from the bigger to the smaller ones, arena for go-carts, a river for canoeing and wild water surfing, restaurants, souvenir shops, tropical fruit market, indoor tennis court, hotel and many other things to see, to do and to enjoy.
This park is named after one of the followers of Prince Diponegoro, one of the Indonesian heroes who fought bravely against the Colonialists during Diponegoro's war (1825-1830). The late Kyai Langgeng was buried in this area and his burial can still be found here. For now and the future the Local Government of Magelang Municipality will move on to invest in new recreational facilities for all levels of the community.

Latest News
One of the many Dutch heritage forts, Van Der Wijck Fort is unique because the entire building is made of red brick. You've seen? This fort with an octagonal plan looks more charming with its red color, compared to Dutch forts which are generally colorless or white. It looks like the fort from the front and inside uses red bricks, but still with the characteristics of a Dutch fort in Indonesia which has a large building structure, such as windows, doors and rooms. With an area of 3606,625 square meters,…
---
Magelang has a number of temples as the favorite tourist destinations. Besides Borobudur, you can visit several other places, such as tourist villages. There are several tourist villages around Borobudur Temple with a unique and interesting atmosphere. In addition to saving nature, you can also get to know the culture behind it. Temanggung VillageTemanggung Village was viral because it was called Nepal van Java. The view of the village at the foot of Mount Sumbing is really epic. Tanjungsari VillageIf you are interested in the process of making honey, you…
---
Punuk Sapi BeachPunuk Sapi Beach is also popularly known as Pantai Lemah Abang which means "red land beach". It is named so because this beach is indeed filled with mounds to hills with red soil that at first glance looks like a cow's hump (punuk sapi is cow's hump in English). This beach has black sand, but it is also beautiful like the white sand beaches. There are hammocks and swings that you can use to relax, as well as take pictures from a height. This beach is located in…
---
Arjuna Temple complex is the most photographed and visited of the surviving temples on the Dieng Plateau. Situated just a few hundred meter from the homestays in Dieng village, they are an obvious first stop on a tour of the sights in the area. Though they are far from the most imposing of Javanese temples, they are the earliest surviving Hindu temples in Central Java, so they are of great importance historically. Built a century or two before the great temples around Yogyakarta and Magelang, they mark the original phase…
---