Hotels In Central Java
---
Kresna Hotel Wonosobo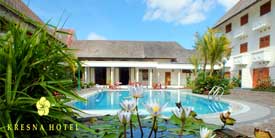 A four star hotel is a reincarnation of the Grand Hotel Dieng, that was established in 1917. Grand Hotel Dieng formerly run by a family from Netherland and as a stopover for Europeans especially dutch who will visit dieng plateu. in the dieng plateu besides its natural beauty can also be encountered any Hindu temples from the 7th century.
Jl. Pasukan Ronggolawe No.30 Wonosobo, Central Java 56311 Indonesia
Phone: +62 286 324111
Web: www.kresnahotelwonosobo.com
Gumaya Tower Hotel Semarang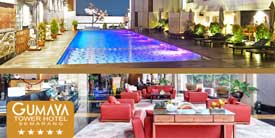 Towering above the heart of Semarang's Central Business District, Gumaya Tower Hotel, the tallest building in Semarang, is luxurious five star business hotel built with a vision to provide five star service to the discerning guest. Set in the Central Business District, this modern, high-rise hotel is 1.4 kilometers from Semarang Poncol train station and 6 kilometers from Achmad Yani International Airport.
Jl. Gajah Mada No. 59 - 61, Kembangsari Semarang, Central Java 50134 Indonesia
Phone: +62 24 3551999
Web: www.gumayatowerhotel.com
Amarelo Hotel Solo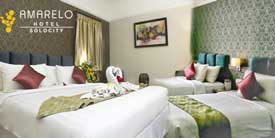 Set in Surakarta's Central Business District, this casual, whitewashed hotel is 2.3 kilometers from Solo Balapan railway station and 1.3 kilometers from the National Press Monument. Amarelo Hotel Solo is a luxury Property Operating a 3 star with the best International standard. This hotel combines modern facilities in the charm of Indonesian hospitality. With 161.45 square meters, guests will enjoy a wide selection of wines (wines), spirits and kokktail in an atmosphere of art on the floor Sky Lounge which overlooks the city of Solo.
Jl. Gatot Subroto No. 89 - 103, Singosaren Surakarta, Central Java 57151 Indonesia
Phone: +62 271 669999
Web: www.amarelo-hotel.com
Amata Borobudur Resort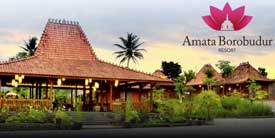 Get inspired by nature, blended with the uniqueness of Javanese traditional architecture in the center of the heritage. Discover other experience behind the Borobudur area and explore the richness of Javanese culture only in Amata Borobudur Resort. Guests can do activities to enjoy around the Amata Borobudur Resort, such as beautiful paddy fields and small rivers provide the backdrop for a variety of activities, from peaceful meditation to thrilling rafting trips.
Jl. Mendut - Sendangsono, Progowati, Mungkid Magelang, Central Java 56512 Indonesia
Phone: +62 877 05466702
Web: www.amataborobudur.com

Latest News
One of the many Dutch heritage forts, Van Der Wijck Fort is unique because the entire building is made of red brick. You've seen? This fort with an octagonal plan looks more charming with its red color, compared to Dutch forts which are generally colorless or white. It looks like the fort from the front and inside uses red bricks, but still with the characteristics of a Dutch fort in Indonesia which has a large building structure, such as windows, doors and rooms. With an area of 3606,625 square meters,…
---
Magelang has a number of temples as the favorite tourist destinations. Besides Borobudur, you can visit several other places, such as tourist villages. There are several tourist villages around Borobudur Temple with a unique and interesting atmosphere. In addition to saving nature, you can also get to know the culture behind it. Temanggung VillageTemanggung Village was viral because it was called Nepal van Java. The view of the village at the foot of Mount Sumbing is really epic. Tanjungsari VillageIf you are interested in the process of making honey, you…
---
Punuk Sapi BeachPunuk Sapi Beach is also popularly known as Pantai Lemah Abang which means "red land beach". It is named so because this beach is indeed filled with mounds to hills with red soil that at first glance looks like a cow's hump (punuk sapi is cow's hump in English). This beach has black sand, but it is also beautiful like the white sand beaches. There are hammocks and swings that you can use to relax, as well as take pictures from a height. This beach is located in…
---
Arjuna Temple complex is the most photographed and visited of the surviving temples on the Dieng Plateau. Situated just a few hundred meter from the homestays in Dieng village, they are an obvious first stop on a tour of the sights in the area. Though they are far from the most imposing of Javanese temples, they are the earliest surviving Hindu temples in Central Java, so they are of great importance historically. Built a century or two before the great temples around Yogyakarta and Magelang, they mark the original phase…
---