Sembungan Village in Kejajar Sub-District, Wonosobo
---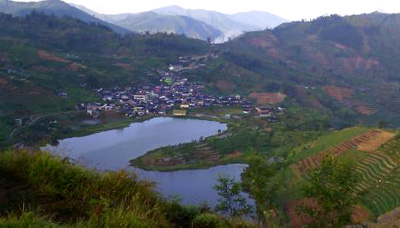 Dieng Plateau is not only about nature tourism because many traditional villages are scattered near to such famous tourist site. That means visitors are able to drop by in those rural communities and learn a bit local culture there. Here is a reference. The name is Sembungan Village and it belongs to Kejajar Sub-District. The fact is Sembungan has become an official rural tourist site due to its history and beautiful nature. Even the Dutch has some pictures of the village, captured in 1911 back then. Not to mention it is known as the highest village in Java Island, residing in a highland of 2300 meters above the sea level.
The Nuance
Another name of the Sembungan Village is Cebongan and it is located near to a famous lake which shares the same name of it. The rumor has it. It is the first inhabited area in Dieng! That means it is the original place, where all people who live in Dieng Plateau come from. No one can confirm such information though. According to the local old record, the village has been there since 1818 and there were only 17 rural houses back then. Today, there are more than 1000 people living in that area. Most of the villagers work as a farmer, producing potatoes and other local specialties like mountain papaya.
Exploring Sembungan Village
The most common reasons for visiting Sembungan Village are  its local culture and lake. Not to mention it has a strategic location, having the distance of 7 km from Dieng Plateau. Even the road is quite smooth! Once tourists have arrived at the village, they can see numerous locals with their friendly smile. Those people often work together in achieving something such as building a new house, cleaning, farming, etc. They even have a local term for it, which is Sambatan. When it comes to communication, only a few of them can talk English. In this case, tourists should have come with a tour guide so they can communicate well with the locals.
The best time to visit the village is either in July or August. Why is that? There is a unique nature phenomenon called "embun upas" (frozen dew). It happens when the temperature drops below 0 Celsius, forming frozen dews covering all fields and farms. That phenomenon creates stunning scenery, though. Visitors often take the opportunity to capture it using their camera because it is a rare event.
Another attraction is definitely Cebongan Lake. Having the size of 5 hectares, the lake offers a calm and beautiful nuance. Local farmers use the lake for irrigation, in fact. The villagers also take advantage of the lake as drinking water source. What about tourists? Well, photography and relaxation can be done near to the lake. Swimming is not recommended as the temperature of the water is quite chilly.
Nearby Attractions
Sikendil Hill
Warna Lake
Ratapan Angin
Pangilon Lake
Arjuna Temple Complex
Tieng Viewing Post
Cebongan Lake
Sikunir Hill
How to Get There
For those coming from Wonosobo, the trip may take an hour as the distance is 19 km. Visitors can use Dieng Raya Street for the fastest trip, actually. Once they reach Kejajar Sub-District, they must undergo trekking to reach the village.
Where to Stay
Arjuna 2 Hotel
Budjono Hotel
Puspa Indah Hotel
Gunung Mas Hotel

Latest News
One of the many Dutch heritage forts, Van Der Wijck Fort is unique because the entire building is made of red brick. You've seen? This fort with an octagonal plan looks more charming with its red color, compared to Dutch forts which are generally colorless or white. It looks like the fort from the front and inside uses red bricks, but still with the characteristics of a Dutch fort in Indonesia which has a large building structure, such as windows, doors and rooms. With an area of 3606,625 square meters,…
---
Magelang has a number of temples as the favorite tourist destinations. Besides Borobudur, you can visit several other places, such as tourist villages. There are several tourist villages around Borobudur Temple with a unique and interesting atmosphere. In addition to saving nature, you can also get to know the culture behind it. Temanggung VillageTemanggung Village was viral because it was called Nepal van Java. The view of the village at the foot of Mount Sumbing is really epic. Tanjungsari VillageIf you are interested in the process of making honey, you…
---
Punuk Sapi BeachPunuk Sapi Beach is also popularly known as Pantai Lemah Abang which means "red land beach". It is named so because this beach is indeed filled with mounds to hills with red soil that at first glance looks like a cow's hump (punuk sapi is cow's hump in English). This beach has black sand, but it is also beautiful like the white sand beaches. There are hammocks and swings that you can use to relax, as well as take pictures from a height. This beach is located in…
---
Arjuna Temple complex is the most photographed and visited of the surviving temples on the Dieng Plateau. Situated just a few hundred meter from the homestays in Dieng village, they are an obvious first stop on a tour of the sights in the area. Though they are far from the most imposing of Javanese temples, they are the earliest surviving Hindu temples in Central Java, so they are of great importance historically. Built a century or two before the great temples around Yogyakarta and Magelang, they mark the original phase…
---