Central Java
---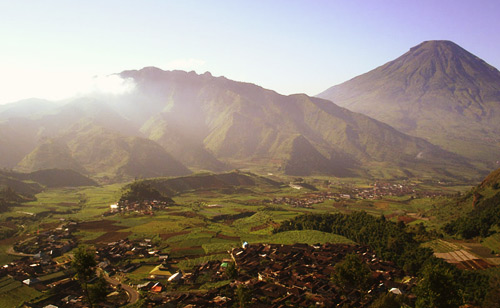 Geographically
Central Java is located between 5o 40' and 8o 30' South Latitude and between 108o 30' and 111o 30' East Longitude. This province is bordered by:
North side: Java Sea
South side: Indian Ocean and the Special Territory of Yogyakarta
West side: West Java Province
East side: East Java Province
Wide Area
The wide area of this province is 34,206 sq. km.
Administration
A governor as a high rank heads Central Java province; Central Java consists of 35 regencies and municipalities. Bupati (Regent) and municipalities head the regency by Walikota (Mayor). The regencies and municipalities divided into district headed by Camat and district divided into villages headed by Lurah or Kepala Desa.
Climate
The average temperature of this area is 21o - 32o C with rainy season on October to April and dry season on April to October.
Religion
The Freedom of embrace religion is fully guaranteed by government. Islam is a greatest number among the five recognized religions (Moslem, Protestant, Catholic, Buddha and Hindu).
Language
Java language with various dialects is the daily language used by most of Central Java people but Bahasa Indonesia as mother tongue.
People
The people of Central Java will welcome all of the tourists with hospitable and friendly. The population is about 30.7 million (based on census in 2002) or about 896 persons per square kilometer with living as farmer, trader, and official government. Besides original tribe, some foreign tribes stay here such as Arabic, Chinese, Indian and Pakistani. "Kebaya" is representing traditional clothes wearied by woman.

Latest News
One of the many Dutch heritage forts, Van Der Wijck Fort is unique because the entire building is made of red brick. You've seen? This fort with an octagonal plan looks more charming with its red color, compared to Dutch forts which are generally colorless or white. It looks like the fort from the front and inside uses red bricks, but still with the characteristics of a Dutch fort in Indonesia which has a large building structure, such as windows, doors and rooms. With an area of 3606,625 square meters,…
---
Magelang has a number of temples as the favorite tourist destinations. Besides Borobudur, you can visit several other places, such as tourist villages. There are several tourist villages around Borobudur Temple with a unique and interesting atmosphere. In addition to saving nature, you can also get to know the culture behind it. Temanggung VillageTemanggung Village was viral because it was called Nepal van Java. The view of the village at the foot of Mount Sumbing is really epic. Tanjungsari VillageIf you are interested in the process of making honey, you…
---
Punuk Sapi BeachPunuk Sapi Beach is also popularly known as Pantai Lemah Abang which means "red land beach". It is named so because this beach is indeed filled with mounds to hills with red soil that at first glance looks like a cow's hump (punuk sapi is cow's hump in English). This beach has black sand, but it is also beautiful like the white sand beaches. There are hammocks and swings that you can use to relax, as well as take pictures from a height. This beach is located in…
---
Arjuna Temple complex is the most photographed and visited of the surviving temples on the Dieng Plateau. Situated just a few hundred meter from the homestays in Dieng village, they are an obvious first stop on a tour of the sights in the area. Though they are far from the most imposing of Javanese temples, they are the earliest surviving Hindu temples in Central Java, so they are of great importance historically. Built a century or two before the great temples around Yogyakarta and Magelang, they mark the original phase…
---