Triton Cape in Kaimana Regency, West Papua Province
---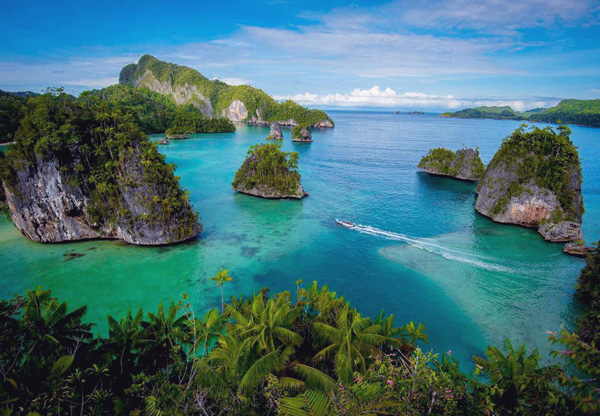 It is true Raja Ampat Regency is a recommended tourist spot for those visiting West Papua. Thanks to the beautiful archipelago. However, there is also a similar attraction in Kaimana Regency and the name is Triton Cape. Still, it offers a distinct attraction, so tourists should drop by and enjoy its scenery. The fact is that Triton belongs to KKLD or local's sea conservation area. That means the environment is pristine and it features beautiful corals and fishes, which are the specialties of Kaimana. With all these facts, everyone should never overlook the cape!
The Nuance
From above, Triton Cape looks like Raja Ampat Archipelago. It consists of sea water, karsts, and some hills. Not to mention trees and bushes grow well in the location. They create a comfy nuance of the site. With a boat, tourists can explore all parts of the cape and witness the whole beauty of it. Some spots also suitable for photography, swimming, and sightseeing. When it comes to the best times to visit the cape, it can be either in the morning or at noon. The thing is tourists should wear sunblock in order to prevent excessive heat during daylight.
Exploring Triton Cape
In a nutshell, Triton Cape is famous for its underwater scenery and cultural heritage. People can enjoy nature wholeheartedly, especially during the dusk. Still, the most popular activity is to explore numerous small islands and coral reefs, which are scattered there. That means it provides lots of attractions to explore. Not to mention the water is crystal clear and mesmerizing. It becomes the home of tons of nautical creatures. Even people call it the Fish Empire! Another nickname is the City of Dawn. Why is that? The cape is famous for its stunning sunset. That's why.
Apart from exploration and enjoying the sunset, people come to the cape to explore the sea. That means the location is suitable for diving and snorkeling. Many types of fishes and corals would be stunning views underwater. The fact is that there are about 900 species of fishes living there. Also, experts said there are more than 450 types of corals, which are scattered underwater. All of them are waiting for explorers. For lucky people, they can even meet 16 different types of green sea turtles and 27 types of lobsters.
Some people also come to Triton Cape to witness famous shark whales. They are also interested in observing ancient paintings, which are carved on a nearby mountain. Those were made by hands, representing the figures of animals and nature. With all these attractions, the cape has been attracting both domestic and foreign tourists. As if, visitors enter a fantasy world with lots of adventures in it. Even though the karsts are not accessible for climbing, people can get around the location using a speedboat. That means they need to spend some money to rent the boat.
Nearby Attractions
Sisir Pond
Kamaka Lake
KM14 Nature Park
Namatota Historical Site
How to Get There
First, travelers need to go to Kaimana City by airplane. That means their prime destination is Utarom Airport. From there, the next destination is Lobo Village. It even involves a boat to reach the location and the fastest option is a speedboat. As an alternative, a longboat takes passengers to the cape with an approximate time of 3 hours.
Where to Stay
Kaimana Beach Hotel
Grand Papua Hotel
Diana Inn
Nirmala Inn