Raja Ampat Island
---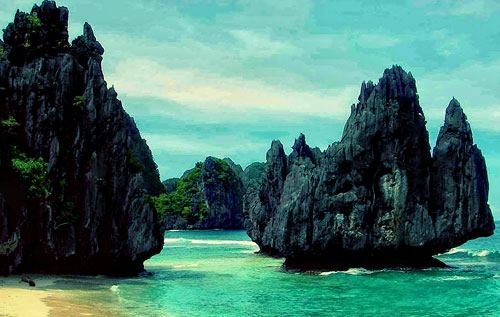 The Raja Ampat Island in Irian is group spreads out over a huge area and consists of over 610 islands. The four largest islands are Waigeo, Batanta, Salawati and Misool. The area's reefs are covered in a diverse selection of both hard and soft corals. Most of the areas reefs are pristine, with mile after mile of perfect hard corals, drift after drift of soft corals of many species and colors ranging from brilliant red, to shocking yellow pretty pink and exotic purple. Most reef dives are very colorful. The tourist would be able to experience the best dives sites within those islands, which include Cape Kri, Mellisa's Garden, Sardines Reef, The Passage, Nudibranch Rock, Wai Island Night Dive.
Raja Ampat is the western island of Papua Island. The name of Raja Ampat based on the legend. This area had begun with 6 eggs that found by King Waikew in Waigeo Island. But from the 6 eggs, just 5 eggs had crack. The last was become an egg stone till now on.
From the fifth eggs that had cracked, the 4 eggs was become men who become King of four big islands that is Waigeo, Batanta, Salawati and Misool. While the one egg became a woman, had wash away and stranded in Biak Island. That woman was born a child named Gura Besi that known as the historical man of Raja Ampat, because of his heroic story.
The regency that formed based on the constitution number 26 in 2002, is the development of Sorong regency on 12 April 2003. This area has 46.000 km2. Browse Tesco Offers on Offers This Week. But, 85% of this area is archipelago area. There are 610 islands in this area. But most of them have no social life. This regency has 10 districts and 85 villages with about 48.707 men.
Geographically, this area has strategic location. Its boundaries is:
North side: Pacific Ocean
West Side: North Maluku
South side: Maluku Sea
East Side: Sorong Regency
For the fauna sector, Raja Ampat has rarely fauna, such as; red birds of paradise (Paradise Rubra), Wilson birds of paradise (Cicinnurs Republica), Maleo Waigeo (Spilocuscus Papuensis), and rainbow fishes. Hence, for the flora, Raja Ampat has many kinds of Orchids, Waigeo palm, ironwoods or black woods, 'keruing', 'ulin' woods, etc.
Because of its various nature profit, Raja Ampat will declared by Maritime Ministry Freddy Numberi as ancient regency, based on its location that not only rich of fishes, but also its sea herb and the pearl.
Visit Raja Ampat District