Kiti-Kiti Waterfall in Fakfak Regency, West Papua Province
---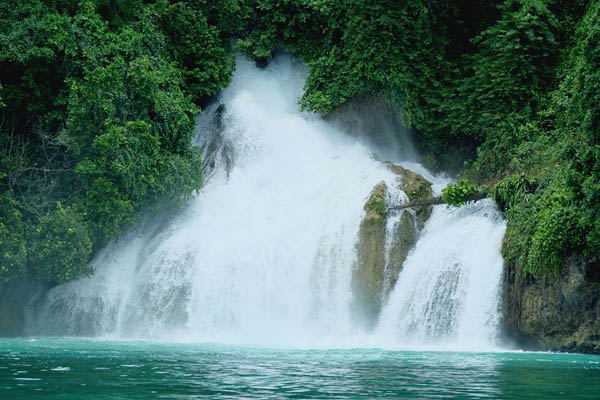 Natural tourism is always a good idea. The fact is that Indonesia has many beautiful tourist spots to visit. One of them is situated in West Papua Province, called Kiti-Kiti Waterfall. It belongs to Fakfak Regency, actually. So, what makes it different than other waterfalls? One thing that tourists can be sure of is that the waterfall flows directly to the open sea. It is similar to that of Jargon Beach in Yogyakarta Special Region. That means visitors can enjoy both the fall and the sea in one go. This is a rare opportunity, in fact.
The Nuance
In terms of height, Kiti-Kiti Waterfall is considered small. Despite the size, it offers flawless beauty and refreshing water. Not to mention it is surrounded by stunning mountains and tropical forest views. When it comes to the sea, the water is pure and blue! All of those features create a perfect nuance for tourists or any visitors. On top of that, people can take the chance to dip in the water and witness amusing corals and fishes. Without a doubt, the location is suitable for both sightseeing and snorkeling.
Exploring Kiti-Kiti Waterfall
Being a mesmerizing tourist spot, the waterfall has been attracting more people these days. This explains why nature lovers and photographers often visit the location – a waterfall that is located near to the sea. No one would deny the beauty of the site, after all. Thus, people keep coming there for either relaxing or photography. They take some pictures near to the falls and explore nearby location for getting better objects. As an alternative, visitors would enjoy sitting near to the falls and listening to the sound of it. Somehow, it is quite relaxing!
The next popular activity is fishing. As mentioned before, Kiti-Kiti Waterfall is situated next to the open sea. No wonder, many fishes live there. This explains why fishing is considered a suitable activity in the location. There are two important considerations, though. First, tourists should have prepared a fishing rod and some bait beforehand. Second, they must know the best spots for fishing. It is because some fishes tend to gather in particular spots, so fishers should be more attentive to it. If necessary, they can go with a local guide.
Another fun thing to do in the location is definitely snorkeling. The waterfall becomes the part of the sea, so visitors can dip in the water and explore underwater beauty like corals and fishes. The thing is they must carry snorkel gear and other equipment, as no nearby facilities are available. As an alternative, they can simply swim on the beach. The water is crystal clear and quite refreshing! The waves are small, too.
Nearby Attractions
Tapurarang Site
Kitikiti Waterfall
Patawana Beach
Patimburak Old Mosque
How to Get There
From Jakarta, tourists should head to Fakfak Regency and the destination is Torea Airport. From there, the next destination is Fakfak Port. It is the location where they can rent a boat and reach the waterfall right away. Despite the expensive fee, it is worth the money, as tourists would be rewarded with an amazing waterfall.
Where to Stay