Botak Mountain in Momi Waren District, West Papua Province
---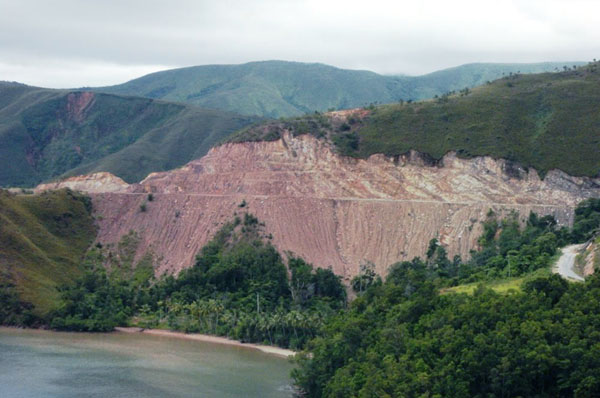 A vacation in West Papua Province is not always related to Raja Ampat. For example, there is Botak Mountain that has a unique appearance and comfy nuance. It is located in Momi Waren District and belongs to South Manokwari Regency. The distance is about 15 from South Manokwari, actually. Most visitors come to the location to witness stunning landscape of nature while eating lunch. Thanks to excellent seascape and landscape. The scenery is pristine and the air is refreshing. Tourists can either enjoy it from near or afar. The thing is the route is a little bit troublesome to reach the top of the mountain.
The Nuance
Botak means "bald". The name describes the condition of the mountain, after all. That means most part of it doesn't have trees at all. Only several bushes grow on it. No wonder, it appears like a bald head from afar. Despite the form, it offers superb nature views to visitors. No one would regret visiting it, as the mountain has many charms. The seascape is one of them and it is located below Botak Mountain. Such breathtaking view becomes the primary reason why people keep coming to the location. Some photographers are even attracted to come there.
Exploring Botak Mountain
As mentioned before, the most common activity in Botak Mountain is sightseeing. Tourists come to the top of the mountain to witness flawless seascape and nature. The location is strategic, after all. The problem is tourists won't find any facilities like toilets, cottages, and eateries. Due to this reason, they should have prepared everything prior to hiking. These include snacks, bottled water, and proper clothes. Another important tip is related to equipment. It is recommended to carry a camera, as many beautiful objects are available on the site. It will be a waste if tourists don't take some pictures of them.
Apart from hiking, tourists can enjoy other fun activities. For example, they can reach the beach, which is located near to Botak Mountain. The location is even suitable for camping! For those who love an adventure, they should drop by and try numerous fun activities in Botak. With flawless seascape, tourists can eradicate stresses there. Not to mention it becomes a right spot for a family outing. When the weather is nice, tourists can even go fishing on the coast!
A trip to Botak Mountain also becomes a perfect lure for tourists. Usually, visitors come by car and the trip takes about 4-5 hours. Alon the way to the location, they would see beautiful beach and mountains. Not to mention there is a fisherman village, which is located about 2 km from the mountain. That means they can visit it later, especially for its local culinary.
Nearby Attraction
Fisherman Village
Manokwari City
How to Get There
First, tourists should go to Manokwari City by airplane and the destination is Rendani Airport. From there, they can take a local transportation service to South Manokwari Regency. To be exact, the destination is Momi Waren District. It takes about 3-4 hours and the distance is 136 km. The best route to use is Manokwari – Bintuni Street.
Where to Stay
Aston Niu Manokwari
Swiss Bel Hotel