Prafi Dam in Manokwari City, West Papua Province
---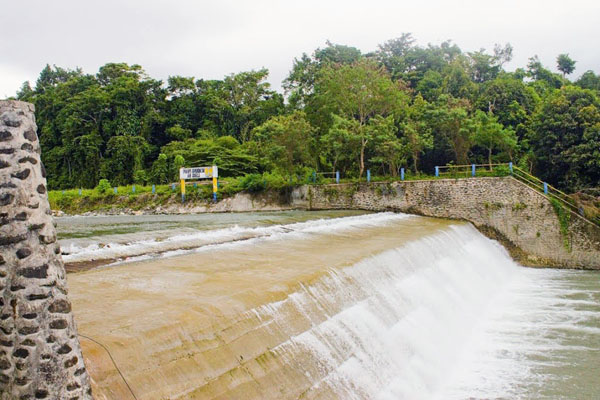 Come to think of it, a dam can be an interesting vacation spot for tourists. For example, there is Prafi Dam in West Papua Province. The location is in Manokwari City and it is quite reachable. For locals, the dam functions as a water reserve, especially during dry season. However, it becomes a good alternative to enjoy a holiday in Manokwari City. Tourists come to the dam to see its majestic structure and witness nearby scenery. Some of them also come to the location to take some pictures, either using a digital camera or a smartphone.
The Nuance
The size of the dam is indeed big and it has a bridge on it. The water is abundant either in a hot or rainy season. That means tourists can visit the dam anytime. The thing is the best temperature occurs in the morning despite the foggy atmosphere. In some parts of the dam, tourists can see several trees and bushes. These increase the comfort of the location, so visitors feel uncomfortable when exploring the dam. The hot sunray would be no issue, as the trees can be a good shelter for tourists, on which they can sit under them.
Exploring Prafi Dam
It is a no brainer. Tourists would come to the dam for sightseeing. They would carry a camera and snacks to the location and enjoy the breezy wind on the dam. When the weather is nice, eating lunch with families in the site becomes a good idea. That means the dam can be a location for a family outing – a place to rest and lessening. However, it is important not to litter. Tourists should take care of the environment, even though no keepers are around.
What's next? Some locals often come to Prafi Dam for swimming! Well, it sounds outrageous, doesn't it? The fact is that it is possible to get in the water and take a bath in it. Visitors only need to obtain permission and follow the rules. Importantly, they are not allowed to litter. Also, they need to be safe. It is because the water is considered deep and unpredictable, especially during rainy season. Here is another important tip. People should come with either friends or families. It is safer and merrier to come in a group, after all.
Regardless of the purpose in visiting Prafi Dam, tourists should learn a little bit about the dam. For example, they must know the right time to visit the dam. In this case, talking to a tour agent is a good idea. At least, they can get some tips from such service. As an alternative, they can hire a local guide to get around the dam safely.
Nearby Attractions
Doreri Cape
Manokwari City
Gunung Meja Nature Park
Anggi Giji and Gita Lake
How to Get There
Prafi Dam belongs to Manokwari City. For outsiders, the first checkpoint is Rendani Airport. Next, they can take a taxi or minibus to visit Prafi District, where the dam is located. Even though it takes some time, it is a rewarding trip.
Where to Stay
Aston Niu Manokwari Hotel
Mutiara Hotel
Aries Hotel
Mokwam Hotel