Gunung Meja Nature Park in Manokwari City, West Papua Province
---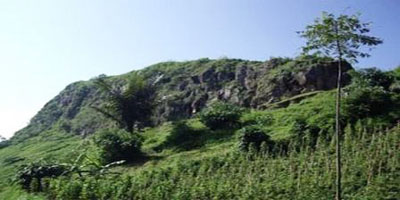 A vacation in West Papua Province would be interesting and meaningful. As for reference, there is Manokwari City. It is the home of a famous nature park called Gunung Meja. The site is used both for a tourist spot and natural conservation. That means visitors can witness numerous types of flora and fauna there. Not to mention they can do many fun activities like hiking, trekking, photography, and sightseeing. It indeed takes both stamina and time to explore the nature park, but it is worth the effort. Somehow, the site becomes a perfect location for a family vacation, as parents can introduce animals and plants to the kids.
The Nuance
Once tourists reach the location, they can see a white gate with the name of the park on it. The gate also features a painting of cockatoos. Next, it is the nuance of the nature park. The site is covered by tropical forest with its lush trees. Many types of plants grow abundantly there. These include bushes and herbal plants. Not to mention people can find palms and orchids in the location. When it comes to animals, the most common one is cuscus. Some birds also live there, actually.
Exploring Gunung Meja Nature Park
Sightseeing is a common activity in Gunung Meja Nature Park. The views of Doreri Cape and Manokwari City are seen clearly from the location. Also, the nature park is suitable for hiking. With the size of 460.25 Ha, tourists can explore it wholeheartedly. The thing is visitors won't find any people living near to the site. Thus, it is better to have hired a tour guide beforehand. They can find it in Manokwari City. For a merrier hiking, it is better to come on holidays or weekends.
As mentioned before, many types of trees and plants grow well in the nature park. However, animals also live in the location, especially cuscus. Millipedes are also seen on the ground, crawling happily. Their color is dark brown and their skin is shiny. The other animals are birds, spiders, and butterflies. All of them are beautiful! The problem is some of the spiders are venomous, so parents should watch their kids when exploring the nature park. It is better to be safe than sorry, isn't it?
The next common activity is photography. It takes about 2 hours to reach the best spot for taking pictures, though. The path is a little bit steep, but it becomes plainer once getting to the top. Have no worries. The heat of the sun won't be an issue, as shady trees may keep it away from explorers. Even Durian and Matoa trees grow there! As for tips, tourists need to wear proper footwear and carry bottled water. It is because they require much stamina and comfort for hiking.
Nearby Attractions
Doreri Cape
Manokwari City
Mansinam Island
Arfak Mountains
How to Get There
As mentioned before, Gunung Meja Nature Park is located in Manokwari City. For those coming from Jakarta, it requires an airplane to reach Manokwari and the destination is Rendani Airport. From there, they can simply ride an "ojek" to reach the nature park. Along the way to the site, they may see a beautiful view of Doreri Cape.
Where to Stay
Aston Niu Manokwari Hotel
Mutiara Hotel
Aries Hotel
Mokwam Hotel