Ermun Beach in Kaimana Regency, West Papua Province
---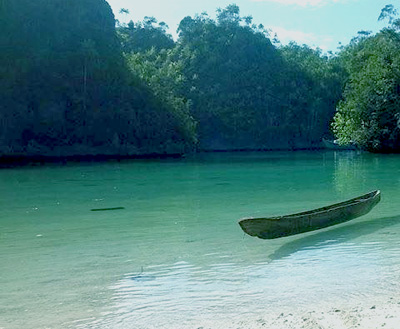 Beaches, capes, mountains and other nature attractions are scattered in West Papua Province. The fact is that each region has its specialties. Kaimana Regency is not an exception! Residing near to Triton Cape, Ermun Beach never fails to amaze tourists. The pure sea scenery and breezy wind become the main features of that coast. Today, along with Triton, it becomes a recommended option for those visiting Kaimana. That means travelers would regret not to come to the beach while in West Papua. Despite the secluded location, it is a worthy spot to spend the next holiday!
The Nuance
Ermun is considered a desolated beach. However, no one should doubt its beauty. When it comes to sea water, it features moderate to strong waves! That means swimming is not recommended for beginners. The wind is strong, too. In the horizon, several local boats are often seen. What's next? The beach also features some coral reefs and rocks, on which tourists can climb. Not to mention a green hill is located near to the coast, where people can explore. Thus, with all these features, photographers would consider it a heaven!
Exploring Ermun Beach
It is safe to say Ermun becomes the most visited beach in Kaimana. Thanks to the fame of Triton Cape. No wonder, the coast has been acknowledged by more travelers these days. It is said the beach becomes a prime destination for those who hunt a beautiful sunset. The thing is tourists should put more efforts in reaching the coast. With a bit trekking, they would be rewarded with a charming seascape and premium views of nature. From the location, visitors can even witness a formation of hills and karsts!
The next activity is photography. Some spots of the beach are perfect for taking pictures, regardless of the objects are. Once again, people need to come with a good stamina as they may climb rocks and a hill to reach those spots. Have no worries. The views are quite rewarding, especially for nature lovers and photographers. As for tips, visitors must carry bottled water or several snacks in exploring Ermun Beach. Carrying some extra clothes is also recommended, as they might get in the water and play some water sports.
Once they have explored the beach, it is time to visit nearby tourist spot, which is no other than Triton Cape. The location is famous for snorkeling and diving, so tourists should have prepared the gear beforehand. That means Ermun is suitable for relaxation and photography, while the cape becomes tourists' favorite spot for snorkeling! Both of them are worth a visit, but it takes much stamina to explore them all.
Nearby Attractions
Triton Cape
Kamaka Lake
KM14 Nature Park
Namatota Historical Site
How to Get There
First, travelers should take advantage of an airplane for reaching Kaimana Regency. The destination is Utarom Airport, actually. From there, the next destination is Kaimana Port, on which they can rent a speedboat. It takes about 1 hour from the port to reach Ermun Beach. Enjoy!
Where to Stay
Kaimana Beach Hotel
Grand Papua Hotel
Diana Inn
Nirmala Inn