Arfak Mountains Nature Reserve in Manokwari City, West Papua Province
---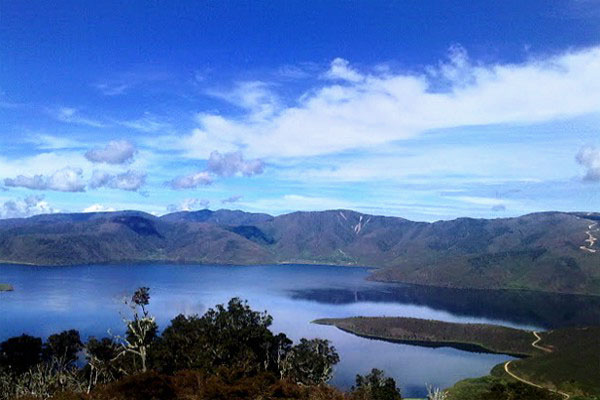 It is time to explore the unspoiled nature in West Papua Province. The question is where people can enjoy the richness of wildlife. As for reference, there is Arfak Mountains Nature Reserve. The location is in Menyambouw District and it belongs to South Manokwari. The height of the mountains varies from 15 – 2,950 meters above the sea level. According to the expert, there are different types of the ecosystem there. These include lowland tropical forest, foothill forest, and lower mountain forest. All of them are worth a visit, so tourists can perform hiking and enjoy nature sightseeing at the same time.
The Nuance
In terms of beauty, it is undisputed. Arfak Mountains offer flawless nature with rejuvenating air. Many types of trees grow in the location. Not to mention Anggi Giji and Gita Lake reside beautifully there. When it comes to the nuance, it is cool and refreshing. No wonder, many people come to the site for relaxation and finding peace. There is also a nearby village, on which tourists can visit. From there, people can eat local foods and rent a room for resting. They can even hire a tour guide there.
Exploring Arfak Mountains Nature Reserve
Located in the highland, Arfak Nature Reserve provides a good atmosphere to visitors. It becomes a perfect location to go hiking and relaxation. That means the cool and fresh air of the site would eradicate tourists' tiredness when exploring the mountains. Many routes are available to explore the mountains. With lots of tropical forest plants, it is going to be a fun hiking and adventure. That means the nature reserve becomes both an adventure site and a place to study numerous types of flora. What a wonderful place to enjoy a holiday.
Apart from the lush of nature, visitors can also meet the locals. At least, there are about 10,000 people living near to the location and they come from 4 local tribes. These include Sough, Meyakh, Moley, and Hatam Tribes. Despite their traditional way of living, they are friendly and approachable. They even tell visitors regarding the best route to explore the nature reserve. Actually, two methods are available. Tourists can either go by walking or riding an offroad vehicle. Each of them comes with distinct difficulties.
It is said Arfak Mountains Nature Reserve also becomes a place for a research. No wonder, both local and foreign researchers often come to the location. They work simultaneously in order to retain the existence of vegetation and plants there. The fact is that the number of threats keeps increasing over time. Due to this reason, both tourists and researchers should work together in preventing any natural issues, including species extinction and disasters. As for tourists, the nature reserve is a good place to improve their awareness of the environment. Isn't that right?
Nearby Attractions
Doreri Cape
Manokwari City
Gunung Meja Nature Park
Anggi Giji and Gita Lake
How to Get There
Arfak Nature Reserve is located near to Anggi Giji and Gita Lake. Both of them belong to Manokwari City, actually. From Jakarta, the first checkpoint is in Rendani Airport. From there, tourists need to take a local transportation service to Arfak Mountains. Next, it can be either trekking or ride an off-road vehicle to reach the site.
Where to Stay
Aston Niu Manokwari Hotel
Mutiara Hotel
Aries Hotel
Mokwam Hotel