West Papua
---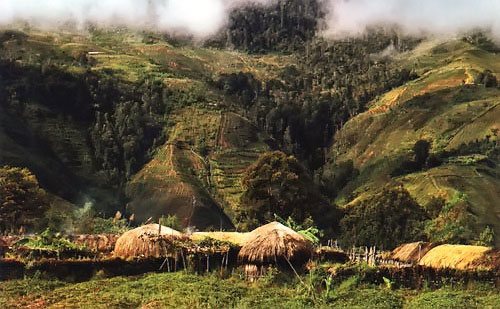 Irian Jaya is a tropical island with primeval rain forests, powerful rivers, beautiful beaches, lakes, and mountains. The highest mountain is Mount Jayawijaya, with snowcaps covering its 5,000-meter-high peaks. The area is also rich in natural resources, including fish, timber, and precious metals. These, however ever, have become a source of conflict between the central government and local peoples.
West Irian Jaya is a hot, humid island rising from the sea with some of the most impenetrable jungles in the world and yet also has snowcaps covering 5,000meter - High Mountain peaks, towering over glacier lakes. West Irian Jaya is Indonesia's largest and easternmost province and covers the western half of the world's second largest island. It is a land of exceptional natural grandeur, with beautiful scenic beaches, immense stretches of marshlands, cool grassy meadows and powerful rivers carving gorges and tunnels through dark and dense primeval forests. The most heavily populated and cultivated parts of the island are the Paniai Lakes district and the Baliem Valley to the east.
The people of the island can be divided into more than 250 subgroup, which are closely related to the islands along the southern rim of the Pacific and include among others, the Marindanim, Yah'ray, Asmat, Mandobo, Dani and Afyat. Those in the central highlands still maintain their customs and traditions and because of the terrain have virtually been untouched by outside influences. Communications hove always been difficult here and different tribes have lived, for the most part, in isolation even of each other, resulting in an incredibly diverse mixture of cultures.
POPULATION
The province has a population of approximately 800,000, making it one of the least populous of all Indonesian provinces. The capital of Irian Jaya Barat is Manokwari. The most populated and cultivated parts of the island are Paniai Lake district and Baliem Valley to the east. The population comprises migrants from Java and indigenous people from diverse tribes, such as Dani of Baliem Valley in the central highlands, Asmat of the southern coastal region, and Ekari of Wissel Lakes region. The official language is Indonesian, but the indigenous people, reflecting the isolation and small numbers of the tribes, speak at least 250 languages.
GOVERNMENT ADMINISTRATION
The province contains one city, Sorong, and 8 regencies:
Manokwari
Fak Fak
Sorong Selatan with its capital is Teminabuan
Raja Ampat with its capital is Waisai
Kaimana
Bintuni Bay with its capital is Bintuni
Wondama Bay with its capital is Rasiei
Sorong Regency
Sorong city