Wetar Island
---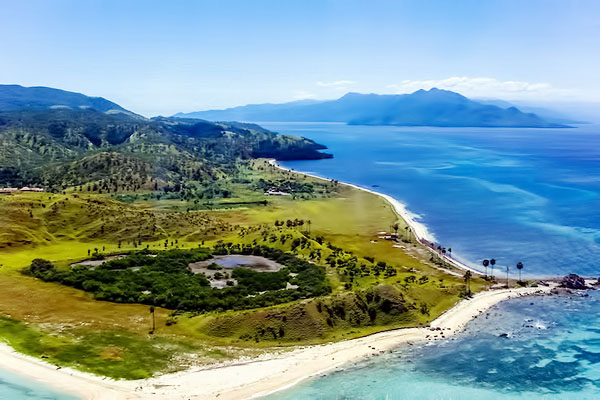 The tropical island of Wetar belongs to the Indonesian province of Maluku and is the largest island of the Barat Daya Islands (literally Southwest Islands). It lies east of the Lesser Sunda Islands, which include nearby Alor and Timor, but it is politically part of the Maluku Islands. To the south, across the Wetar Strait, lies the island of Timor; at its closest it is 50 km away. To the west, across the Ombai Strait, lies the island of Alor. To the southwest is the very small island of Liran and, further, the small East Timorese island of Atauro. To the north is the Banda Sea and to the east lie Romang and Damar, the other principal islands of the Barat Daya Islands.
The principal towns on Wetar are Lioppa in the northwest, Ilwaki in the south, Wasiri in the north, Masapun in the east, and Arwala in the northeast. These are connected by roads. Wetar is 130 km wide east-to-west, and 45 km north-to-south. It has an area of 3600 km². It is surrounded by coral reefs and deep seas. The highest point on the island is 1412 m.
Wetar is part of a volcanic island arc which includes the other Barat Daya Islands and the Banda Islands, created by the collision of the Indo-Australian Plate and the Eurasian Plate. It is not, however, principally of volcanic origin, being instead mainly oceanic crust that has been lifted by the plate collision. The stratovolcano Gunungapi Wetar forms an isolated island to the north of Wetar.
There are a number of Timor languages branch of Malayo-Polynesian languages which are endemic to Wetar.Wetarese, which is also spoken on the nearby islands of Liran and Atauro, is one such language. Others include Aputai, Ili'uun, Perai, Talur, and Tugun. These are all spoken by small groups of about 1,000 people each. Bahasa Indonesia or regional Ambonese Malay is commonly used for daily speaking here. The main economic activity on Wetar is subsistence agriculture, principally of sago. Tortoise shells are also gathered and exported to countries where the trade is not banned. Most of the inhabitants are of Papuan descent. Most are Muslims, but there are some Christians as well.

Latest News
The Martha Christina Tiahahu Monument is located in the Karang Panjang area, about 10 minutes from downtown Ambon. Because the location of the monument is at elevation, the tourists can watch the sparkling expanse of Ambon City glittering at night. From this place, the high seas can be seen clearly. We can see the view of Ambon City. This location is usually used as an alternative place to enjoy the relaxed atmosphere, especially young people who want to enjoy the view of Ambon City. Historically, Martha Christina Tiahahu grew up…
---
Benteng Belgica or Belgica Fort is a heritage fortress from Portuguese that been built in Bandaneira, Maluku Tengah. Bandaneira is a small town that also a heritage city from Portuguese and Duch colonization. This city became important city for Dutch and Portuguese since it produce some of important spices. Since Bandaneira was the center of trading, then the building of fortress is need to be built. This fortress was also play the role as a prison and the place for keeping the gun. At early begin, Belgica was named as…
---
Beaches in Ambon are known well for their beauty. The visitors are not as crown as those who come to pulau Bali or Lombok, but that makes beaches in Kota Ambon still in original and natural condition. One of the favorites is Hunimua Beach. Though the facilities are yet not complete. This beach is also known as Liang Beach for it's located in Liang village, Salahutu sub-district, Central Maluku district, Maluku Province. UN has stated this beach as the most beautiful beach in Indonesia in 1990, and always been target…
---
Village of Sawai, Maluku, is one of destinations in the Manusela National Park. The waters are calm and clean. This tourism village has the same beauty with other islands in Indonesia. This village is famous for its beaches and sea. Most of the sea in the this village is still natural and well preserved. Sawai village is including the oldest villages in Maluku and it has several small islands surrounding it. These islands are also adds to the beauty of the Sea of ??Sawai. What is unique of this village…
---