Siwalima Museum
---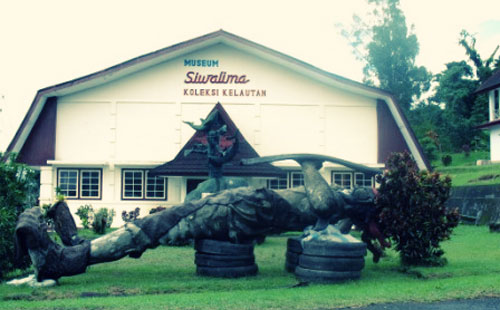 Siwalima Museum is located on Makmur Park Area, Amahusu Village, Nusaniwe District, Kota Ambon City, Maluku Province. This museum was established in 1973 and is filled with relics and historic objects. An extra this museum provides is that it is located on a hill facing the bay of Ambon providing a superb view.
The word "Siwalima" is formed from two words taken from the history of the kingdoms that once existed in Maluku. The word "Siwa" means nine meaning the collection of nine kingdoms in the southern Maluku and the word "Lima" means five is taken from Patalima which is derived from a collection of five kingdoms in the northern Maluku.
In front of the museum entrance there is a sign saying "Usu Mae Upu" which means "Please come in". Initially, the museum only collected objects of Maluku cultures and customs, and now it has a huge collection. Because of this the Siwalima Museum is divided into two buildings:
The first building is called the Siwalima Maritime Museum. In this place are objects of Ambonese maritime history and sea animals such as: three pieces of whale skeleton of 9 m, 17 m and 19 m length, as well as various objects of Maluku marine life. The second building is called Siwalima Cultural Museum. In this place are objects shown about everything relating to the Maluku culture, such as the original building of Maluku, clothing, agricultural tools, weapons, ceremonial paraphernalia, old money, and various jars from the Japanese colonial period.
All these objects are well-preserved in Museum Siwalima. When you visit this place there will be attendants who can explain in detail the entire contents of the museum. Visitors can also make a special request for listening to local music, see dance performance or a demonstration of the manufacturing of woven fabrics.
The museum is only about 5 km from Kota Ambon City center and can easily be reached by any public transportation heading to nearby Makmur Park. Siwalima Museum is open Tuesday-Thursday from 8:00 to 14:00 EIT. Saturday from 08:00 to 13:00 EIT, Sunday from 08:00 to 15:00 EIT, while every Monday and national holidays the museum is closed.

Latest News
The Martha Christina Tiahahu Monument is located in the Karang Panjang area, about 10 minutes from downtown Ambon. Because the location of the monument is at elevation, the tourists can watch the sparkling expanse of Ambon City glittering at night. From this place, the high seas can be seen clearly. We can see the view of Ambon City. This location is usually used as an alternative place to enjoy the relaxed atmosphere, especially young people who want to enjoy the view of Ambon City. Historically, Martha Christina Tiahahu grew up…
---
Benteng Belgica or Belgica Fort is a heritage fortress from Portuguese that been built in Bandaneira, Maluku Tengah. Bandaneira is a small town that also a heritage city from Portuguese and Duch colonization. This city became important city for Dutch and Portuguese since it produce some of important spices. Since Bandaneira was the center of trading, then the building of fortress is need to be built. This fortress was also play the role as a prison and the place for keeping the gun. At early begin, Belgica was named as…
---
Beaches in Ambon are known well for their beauty. The visitors are not as crown as those who come to pulau Bali or Lombok, but that makes beaches in Kota Ambon still in original and natural condition. One of the favorites is Hunimua Beach. Though the facilities are yet not complete. This beach is also known as Liang Beach for it's located in Liang village, Salahutu sub-district, Central Maluku district, Maluku Province. UN has stated this beach as the most beautiful beach in Indonesia in 1990, and always been target…
---
Village of Sawai, Maluku, is one of destinations in the Manusela National Park. The waters are calm and clean. This tourism village has the same beauty with other islands in Indonesia. This village is famous for its beaches and sea. Most of the sea in the this village is still natural and well preserved. Sawai village is including the oldest villages in Maluku and it has several small islands surrounding it. These islands are also adds to the beauty of the Sea of ??Sawai. What is unique of this village…
---