Amsterdam Fortress
---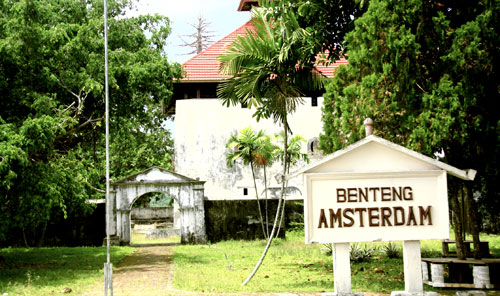 Amsterdam fortress is situated on the border between Negeri Hila and Negeri Kaitetu, Leihitu District, Central Maluku regency, about 42 km from the city of Ambon. We can enter to this fortress for free, without any entrance fee needed.
What uniqueness comes from this fort? According to the information related, this fort is the second building which was founded by the Dutch after Casteel Vanveere in Negeri Seith was destroyed. The Amsterdam is one of the older buildings with hundreds of years and it becomes part of the history VOC colonization in Ambon, Maluku.
The tourists who come to this place will be surprised by the style of the building and its architecture, as Amsterdam's shaped is like a regular house that consists of three floors. The first floor was become the bed of the soldiers. The second floor was used as a meeting room and the third floor was a monitoring post. Aside from the third floor of the main building, there is a tower that was also used to monitor the situation around the place. Please be careful when visiting this place, for the ladder is obsolete. Standing along the tower, we can see the stunning view of Hila beach and Seram Island from the window. Outside the main gate, there are storage objects that originate belongs to the fortress.
Entering the castle, near the entrance we will find inscriptions with the emblem of the Ministry of Education and Culture. The inscription reads:

FORT AMSTERDAM
Starting Built By Gerard Demmer In the Year 1642
Later expanded and enlarged by: Arnold De Vlaming Van Ouds Hoorn
In the Year 1649 to the Year 1656

Latest News
The Martha Christina Tiahahu Monument is located in the Karang Panjang area, about 10 minutes from downtown Ambon. Because the location of the monument is at elevation, the tourists can watch the sparkling expanse of Ambon City glittering at night. From this place, the high seas can be seen clearly. We can see the view of Ambon City. This location is usually used as an alternative place to enjoy the relaxed atmosphere, especially young people who want to enjoy the view of Ambon City. Historically, Martha Christina Tiahahu grew up…
---
Benteng Belgica or Belgica Fort is a heritage fortress from Portuguese that been built in Bandaneira, Maluku Tengah. Bandaneira is a small town that also a heritage city from Portuguese and Duch colonization. This city became important city for Dutch and Portuguese since it produce some of important spices. Since Bandaneira was the center of trading, then the building of fortress is need to be built. This fortress was also play the role as a prison and the place for keeping the gun. At early begin, Belgica was named as…
---
Beaches in Ambon are known well for their beauty. The visitors are not as crown as those who come to pulau Bali or Lombok, but that makes beaches in Kota Ambon still in original and natural condition. One of the favorites is Hunimua Beach. Though the facilities are yet not complete. This beach is also known as Liang Beach for it's located in Liang village, Salahutu sub-district, Central Maluku district, Maluku Province. UN has stated this beach as the most beautiful beach in Indonesia in 1990, and always been target…
---
Village of Sawai, Maluku, is one of destinations in the Manusela National Park. The waters are calm and clean. This tourism village has the same beauty with other islands in Indonesia. This village is famous for its beaches and sea. Most of the sea in the this village is still natural and well preserved. Sawai village is including the oldest villages in Maluku and it has several small islands surrounding it. These islands are also adds to the beauty of the Sea of ??Sawai. What is unique of this village…
---