Hotels In Maluku
---
The Natsepa – Resort and Conference Center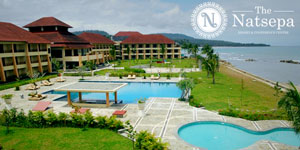 Located only 25 minutes from Pattimura Airport and next to the popular tourism icon of Ambon, Natsepa Beach. The resort affords beautiful vistas over Baguala Bay and the mountains of the Leitimur Peninsula. Ambon City and the ferry terminal to the exotic Banda Islands and Ora Beach can be reached by car within 30 minutes. The fabulous dive spots near Pombo Island are a just 20 minutes drive away north of the resort. Each leisure minute awaits you with the breathtaking ocean view of the sea and green mountains go by.
Jl. Raya Natsepa No.36, Suli, Salahutu
Maluku Tengah, Maluku 97582
Indonesia
Phone: +62 911 362555
Web: thenatsepa.com
Amboina Hotel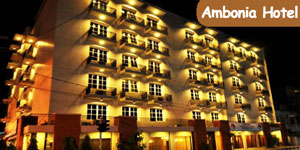 Located in the heart of Ambon's government and business districts. Amboina Hotel is two blocks away from the offices of the Governor and Mayor, the local court and other government institutions. Amboina Hotel is just as close to Ambon's most vibrant commercial neighborhood. Amboina Hotel is a great base to explore Ambon's cultural icons, from the World Peace Gong to the remnants of the historic, Portuguese-built Victoria Castle. It takes a 45-minute drive from Pattimura Airport, and is only five minutes away from the Yos Sudarso pier, to reach Hotel Amboina. Once you're here, you're only within walking distance to many attractions that include shopping, dining and nightlife.
Jl. Kapitan Ulupaha 5A
Ambon, Maluku 97124
Indonesia
Phone: +62 911 355515
Web: hotelamboina.com
Swiss-Belhotel Ambon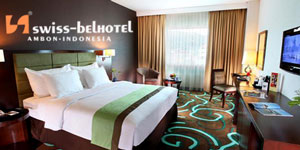 The pearl of Ambon's hospitality sector awaits you. Located in the centre of Ambon Municipality, Swiss-Belhotel Ambon is accessible to all the business, leisure and tourist destinations in Jalan Benteng Kapaha Ambon. Set in surroundings endowed with natural beauty, guests can enjoy splendid views of the mountains and the sea. In an elegant tower, this sleek hotel is a 9-minute walk from the World Peace Gong, 1.5 km from Ambon ferry terminal and 16 km from Pintu Kota Beach.
Jl. Benteng Kapaha No. 88, Uritetu, Sirimau
Ambon, Maluku 97124
Indonesia
Phone: +62 911 322888
Web: swiss-belhotel.com
Everbright Hotel Ambon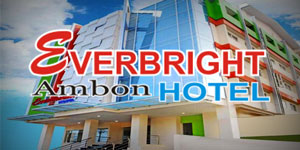 Unparalleled facilities, services and location have made the hotel first choice of travellers for years, and recent facility upgrades underline our continuous commitment to our guest's comfort and their visit to Maluku. A seventh story building situated in the heart of Ambon City, near the city's business, shopping and banking as well as numerous facilities, Everbright Ambon Hotel is truly the best place to stay in Ambon. The hotel is 40 minutes drive from the Pattimura Airport and 5 minutes drive from Yos Sudarso Harbour.
Jl. Cendrawasih No. 20, Kel Rijali, Sirimau
Ambon, Maluku
Indonesia
Phone: +62 911 343699
Web: everbrightambonhotel.com

Latest News
The Martha Christina Tiahahu Monument is located in the Karang Panjang area, about 10 minutes from downtown Ambon. Because the location of the monument is at elevation, the tourists can watch the sparkling expanse of Ambon City glittering at night. From this place, the high seas can be seen clearly. We can see the view of Ambon City. This location is usually used as an alternative place to enjoy the relaxed atmosphere, especially young people who want to enjoy the view of Ambon City. Historically, Martha Christina Tiahahu grew up…
---
Benteng Belgica or Belgica Fort is a heritage fortress from Portuguese that been built in Bandaneira, Maluku Tengah. Bandaneira is a small town that also a heritage city from Portuguese and Duch colonization. This city became important city for Dutch and Portuguese since it produce some of important spices. Since Bandaneira was the center of trading, then the building of fortress is need to be built. This fortress was also play the role as a prison and the place for keeping the gun. At early begin, Belgica was named as…
---
Beaches in Ambon are known well for their beauty. The visitors are not as crown as those who come to pulau Bali or Lombok, but that makes beaches in Kota Ambon still in original and natural condition. One of the favorites is Hunimua Beach. Though the facilities are yet not complete. This beach is also known as Liang Beach for it's located in Liang village, Salahutu sub-district, Central Maluku district, Maluku Province. UN has stated this beach as the most beautiful beach in Indonesia in 1990, and always been target…
---
Village of Sawai, Maluku, is one of destinations in the Manusela National Park. The waters are calm and clean. This tourism village has the same beauty with other islands in Indonesia. This village is famous for its beaches and sea. Most of the sea in the this village is still natural and well preserved. Sawai village is including the oldest villages in Maluku and it has several small islands surrounding it. These islands are also adds to the beauty of the Sea of ??Sawai. What is unique of this village…
---