Hawang Cave
---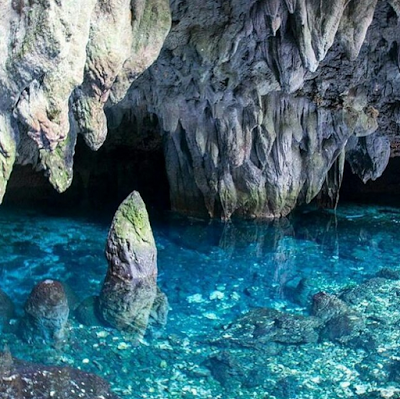 Hawang cave is one of main destinations located in Kei Kecil Island, Letvuan village, Maluku Tenggara district, Maluku Province. The cave, surrounded by beautiful jungle, is 15 km away from Tual city.
Inside Hawang cave is pond there is bluish clear water allowing you to see the rocks underneath clearly. This pond is directly linked to Evu (the water source), which happens to be the biggest in Kei Kecil island. Hawang cave is divided into two different caves connected by an underground river. You can go to both caves and dive through the connecting river.
The cave has a legend. There are two rocks (one big and one small) at the centre of the pond. The legend says that those used to be a hunter and his dog. A long time a go, there was a hunter and his dog chasing a hog running into the cave. Suddenly the hog disappeared. Feeling exhausted, they drink the water, the water tasted bitter. They then became rocks after cursing the water.
This legend teaches us to behave politely while inside. There are some rules to obey. For example, a girl having her period is not allowed to enter. "Hawang" itself means evil and local people believe there are evil spirits haunting inside. Good thing to keep that in mind.
How to reach
When we are at Ngurbloat beach in Tual, we can go directly to Hawang cave by bus which will take about 20 minutes.

Latest News
The Martha Christina Tiahahu Monument is located in the Karang Panjang area, about 10 minutes from downtown Ambon. Because the location of the monument is at elevation, the tourists can watch the sparkling expanse of Ambon City glittering at night. From this place, the high seas can be seen clearly. We can see the view of Ambon City. This location is usually used as an alternative place to enjoy the relaxed atmosphere, especially young people who want to enjoy the view of Ambon City. Historically, Martha Christina Tiahahu grew up…
---
Benteng Belgica or Belgica Fort is a heritage fortress from Portuguese that been built in Bandaneira, Maluku Tengah. Bandaneira is a small town that also a heritage city from Portuguese and Duch colonization. This city became important city for Dutch and Portuguese since it produce some of important spices. Since Bandaneira was the center of trading, then the building of fortress is need to be built. This fortress was also play the role as a prison and the place for keeping the gun. At early begin, Belgica was named as…
---
Beaches in Ambon are known well for their beauty. The visitors are not as crown as those who come to pulau Bali or Lombok, but that makes beaches in Kota Ambon still in original and natural condition. One of the favorites is Hunimua Beach. Though the facilities are yet not complete. This beach is also known as Liang Beach for it's located in Liang village, Salahutu sub-district, Central Maluku district, Maluku Province. UN has stated this beach as the most beautiful beach in Indonesia in 1990, and always been target…
---
Village of Sawai, Maluku, is one of destinations in the Manusela National Park. The waters are calm and clean. This tourism village has the same beauty with other islands in Indonesia. This village is famous for its beaches and sea. Most of the sea in the this village is still natural and well preserved. Sawai village is including the oldest villages in Maluku and it has several small islands surrounding it. These islands are also adds to the beauty of the Sea of ??Sawai. What is unique of this village…
---